Three grizzlies relocated after feeding on garbage in Swan Lake area
by
Mackenzie Reiss
|
May 13, 2020 10:27 AM
Three subadult grizzly bears were trapped along the northwestern edge of Swan Lake last Thursday, May 7, after the siblings spent weeks roaming the area, ravaging garbage, hummingbird feeders and feeding in yards. Montana Fish, Wildlife and Parks consulted with the U.S. Fish and Wildlife Service and the U.S. Forest Service to determine a release location and settled on the North Fork of the Flathead River. On May 8, the two females, weighing in at 173 pounds and 222 pounds, were released in the Whale Creek drainage, while the male, at 241 pounds, was released at the British Columbia border. All three bears were fitted with GPS radio collars, which will be used to monitor their movement.
FWP Grizzly Bear Management Specialist Tim Manley said he first received reports of bear activity in the Swan Lake area on April 18 when the trio of grizzlies were seen feeding on grass along the west shore. On May 1, the bears had reportedly knocked over a barbecue and gotten into unsecured garbage in the Woods Bay area, prompting FWP to set traps on private land in hopes of capturing the bears. But the subadults continued to feed near residences in the coming days, first along Crane Mountain Road and then in Cedar Bay, where they were spotted snacking on hummingbird feeders and dog food.
"Most bears that come into the area don't cause any conflicts, but these three … [have] gotten into garbage and hummingbird feeders," Manley said. The bears weren't aggressive — all three moved away when confronted by people — but Manley didn't want the bears to start associating people with an easy food source. "It causes bears to come in around houses up on porches looking for easy food," he said. "We don't want to have people have to shoot or kill bears."
The traps he set were culvert traps, large, round metal traps that use roadkill deer as bait to lure the bears inside. The deer leg is attached to a trigger and when a bear pulls on the meat, the trap door is dropped shut.
In addition to traps set on private land near Cedar Bay, FWP also set up a trap at Ferndale Market.
Crew member Kolten Powers said three female coworkers were leaving the market on a Sunday night, came around the corner and saw one of the grizzlies. Thankfully, when they screamed, the bear took off.
"It got into a few of our neighbors' trash, got into our trash," he said. "Didn't really do anything damage-wise."
But it was the traps in Cedar Bay that were successful in capturing these carnivoran culprits.
"We decided to release the two females together and decided to split the male off because he seemed to be a little bit more of a leader," Manley explained. Originally, they were hoping to release the bears in the Spotted Bear drainage, but there was too much snow. He said whether they return to the greater Bigfork area depends on the bear, although adult bears are more likely to find their way back than subadults, like the ones recently captured.
"It depends on the bear — we've had mixed results," Manley noted.
The three bears were kicked off their mother last June and had been reported traveling from Ferndale to the east shore of Flathead Lake from Woods Bay south to Yellow Bay and
Finley Point. Last spring they were also sighted eating grass in a yard in Ferndale, but traps were not set because the bears were on the move so much.
Manley said preventing human-bear interaction is easy. He recommends that locals take down bird feeders by April 1 — birds don't need them at that point and all they do is attract bears. An alternative to hummingbird feeders is a basket of flowers, which will still draw in the desired birds, but won't put the homeowner at risk of increased bear activity. Appropriate garbage storage is another prevention tactic. Manley said he advises people to keep garbage in their garages between trips to the transfer station or if they use a trash service, to ask the provider for a bear resistant container. If people have chicken or livestock, he recommends using electric fencing around chicken coops and that people store livestock feed where bears can't access it.
"There's things people can do," he explained. "It's just a matter of not leaving stuff out where bears can readily get to it." ■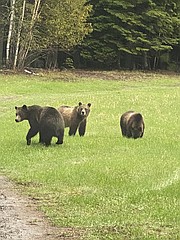 ---