Firearms store specializes in historic weaponry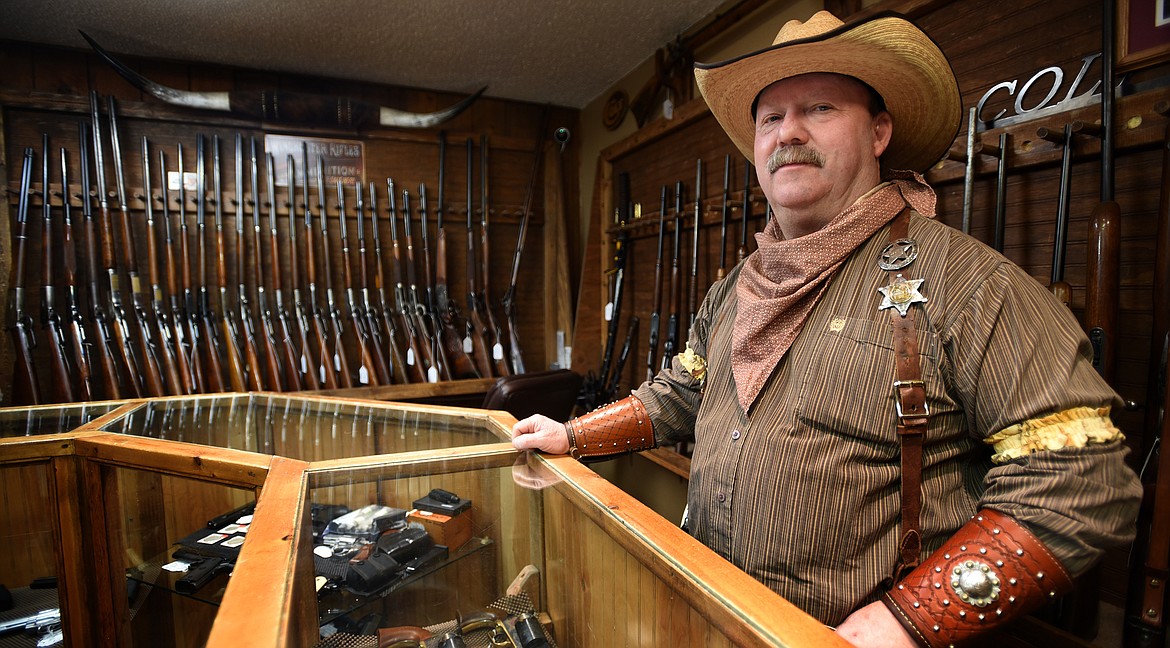 Richard Cheney, owner of Short Colt Antique Firearms in Bigfork, shows off his current inventory. (Jeremy Weber/Bigfork Eagle)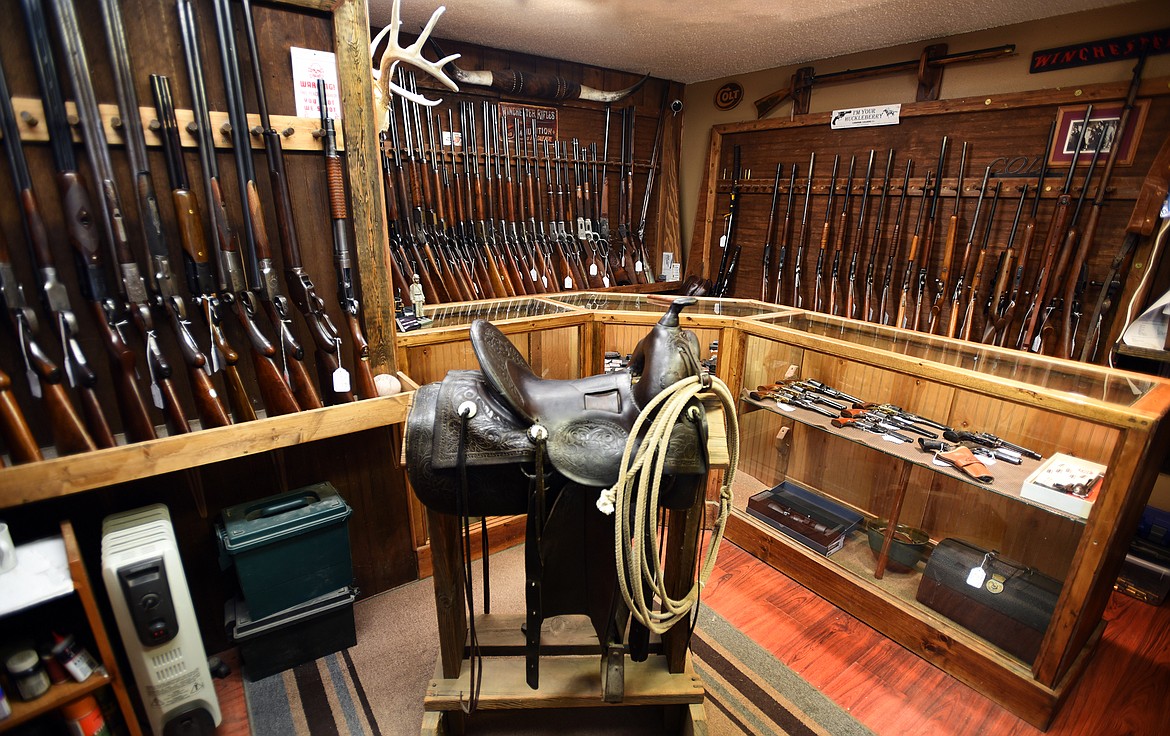 The view just inside the door of Short Colt Antique Arms in Bigfork. (Jeremy Weber/Bigfork Eagle)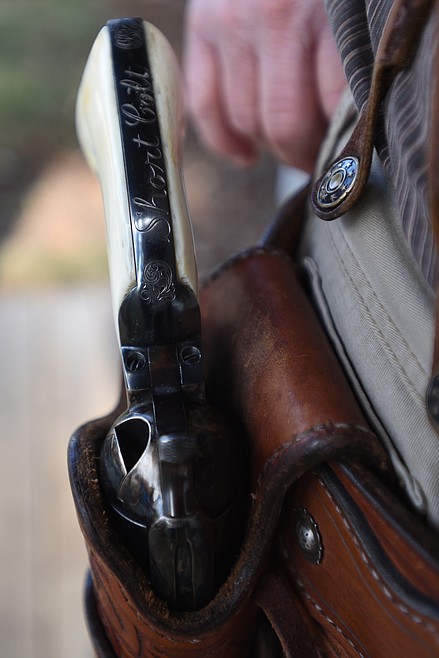 Richard Cheney shows off one his custom engraved competition pistols. (Jeremy Weber/Bigfork Eagle)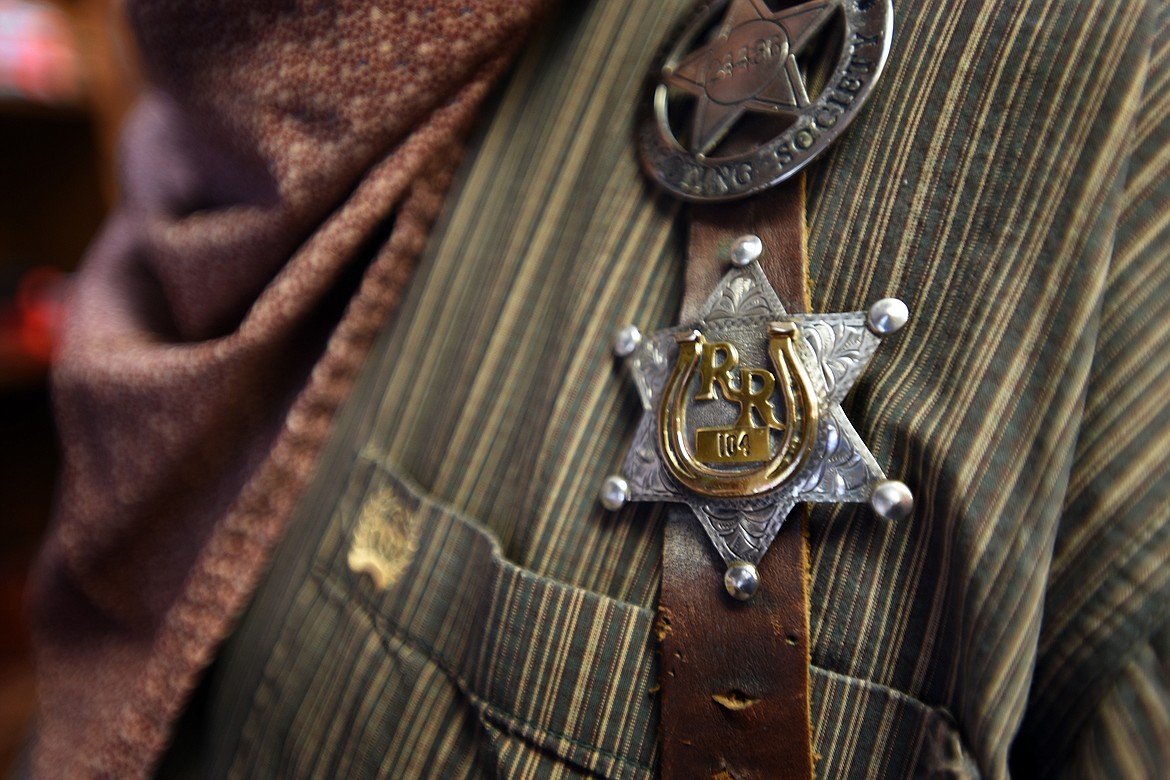 Richard Cheney shows off his badge as one of the earlier members of Double R Bar Regulators shooters club in California. (Jeremy Weber/Bigfork Eagle)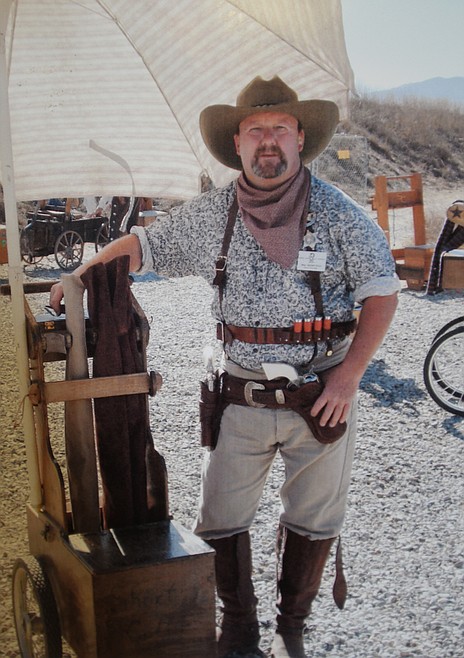 Richard Cheney during his days as a cowboy action shooter. (photo provided)
A replica of the 1847 Walker Colt revolver rests in front of a photo of designer Captain Samuel Hamilton Walker. (Jeremy Weber/Bigfork Eagle)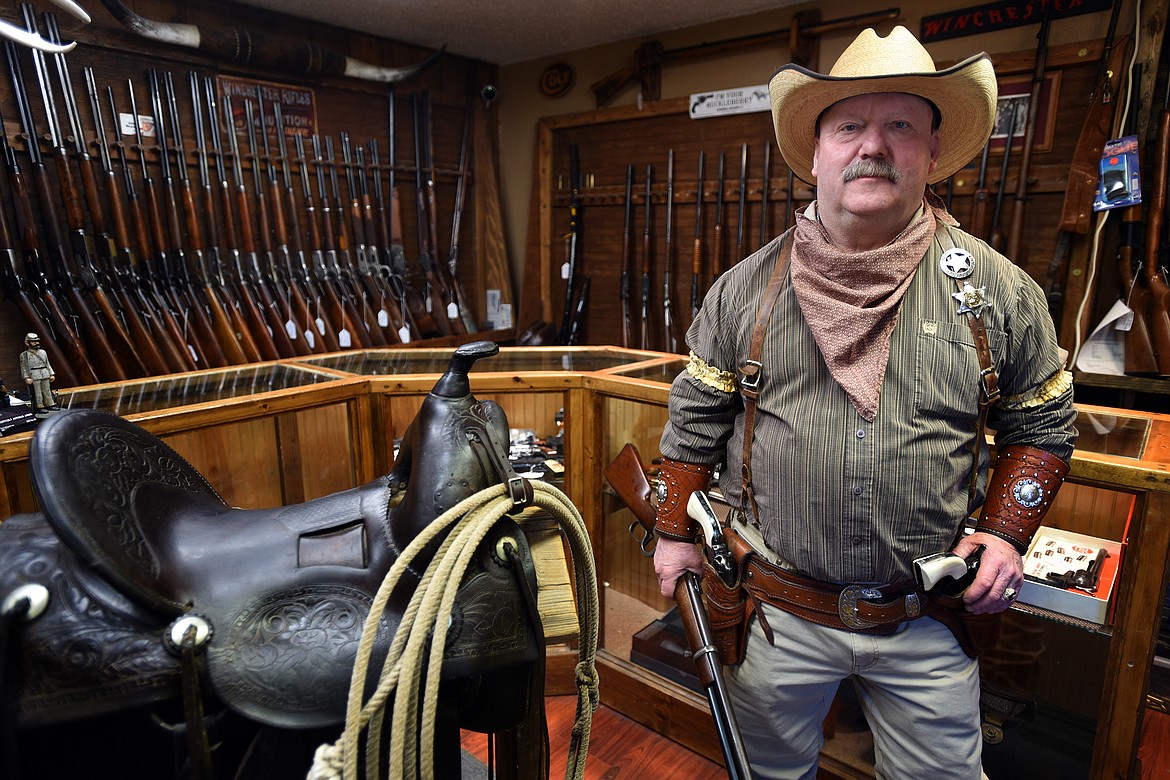 Richard Cheney, owner of Short Colt Antique Arms in Bigfork, shows off the outfit he wore as a cowboy action shooter for 16 years. (Jeremy Weber/Bigfork Eagle)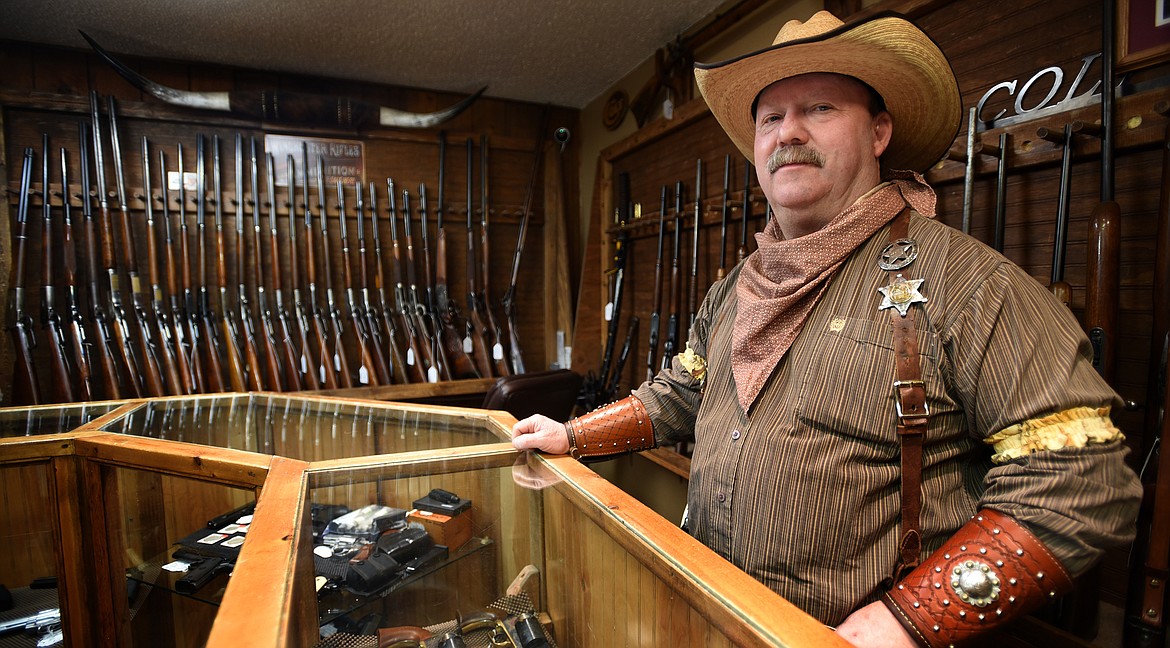 Richard Cheney, owner of Short Colt Antique Firearms in Bigfork, shows off his current inventory. (Jeremy Weber/Bigfork Eagle)
Previous
Next
by
Jeremy Weber
|
March 25, 2020 1:00 AM
For Bigfork's Richard "Short Colt" Cheney, firearms are a way of life.
Stepping into his Short Colt Antique Arms store on Highway 35 just south of the bridge is like taking a walk back in time. With firearms from as far back as the 1700s on display, nearly all eras of American history are represented in the shop, from the Revolutionary and Civil Wars to World War II and the modern day.
For four years, Cheney has operated his store in Bigfork, sharing his passion for antique firearms with anyone who walks through the door. A collector for more than 45 years, his collection had grown so large that opening a store made sense.
"Well, I was kind of driving my wife nuts with my gun collecting," he laughed. "She said I should open up a gun shop, so I did."
Born just outside of Boston with family ties to the Boston Tea Party, Cheney's family moved to California when he was a child, leading him to grow up in the what was then the wide open spaces of Simi Valley.
"I had the greatest childhood imaginable because I had the whole area to myself and the ranchers didn't care if you hunted on their land," he said. "I hunted just about everything there was out there. It was a blast and I always had a gun with me."
It was during this time that Cheney's gun collection began with the single-shot .22 and shotgun his father bought for him — firearms that are still in his collection today. It was also during his childhood in California that Cheney fell in love with the old west and the cowboy way of life.
"In my day, it was Roy Rogers, Hopalong Cassidy and the Lone Ranger. Those were my heroes. So, I was always interested in the cowboy stuff," Cheney said. "What kid wouldn't be interested in the California Gold Rush or the Wild West in Wyoming and Montana?"
Though his favorite tool from the cowboy era remains the single action Colt revolver (which he still collects), Cheney also put together an impressive cowboy saddle collection at one time that featured 13 saddles from various makers throughout the U.S. It was an interesting collection, considering Cheney has never owned a horse.
"I had them all. From Pueblo, Colorado to Walker Saddle out of San Francisco. I never had a Miles City saddle, though," he said with a sigh. "That's one I still dream about, but have never owned."
When it comes to firearms, Cheney's dream gun is unsurprisingly a rare Colt pistol — the 1847 Walker Colt revolver.
Designed by U.S. Army Captain and Texas Ranger Captain Samuel Hamilton Walker and manufactured by Samuel Colt, the 4.5 pound Walker Colt revolver fired a .44 caliber projectile with 60 grains of black powder, making it the largest black powder repeating handgun of its time. With only 1,100 ever produced, the rare firearm is highly collectible with high-grade specimens selling for more than $1.5 million. Cheney displays as replica of the pistol in his shop, but still yearns to own an original.
It was Cheney's love of cowboys and Colt revolvers that led him into the world of cowboy action shooting, where he earned his nickname.
Originating in California in the 1980s, cowboy action shooting involves competitors using period-correct firearms to make their way through a course of fire while competing for the fastest time. Competitors are required to compete using colorful nicknames, which is where Cheney's "Short Colt" moniker comes from. Cheney was spending much time shooting with Roy "Dusty" Rogers, Jr., the son of his childhood idle Roy Rogers. After many competitions together, Rogers announced that Cheney needed a nickname for himself. When Cheney could not come up with one, Rogers told him "You are short and you like to shoot Colts. How about Short Colt?" The name stuck.
For 18 years, "Short Colt" Cheney shot on the cowboy action circuit with his pair of .45 Colt revolvers sporting a custom engraving of his nickname and mammoth ivory grips. These days, the pistols can still be seen at his shop by anyone who asks about them.
Over the years, Cheney has seen some rare and unusual guns come into his store, including a cowboy era factory engraved Colt revolver, a rare two-shot Remington Model 95 Derringer and even a 1777 French Charleville musket used in the American Revolution. Sometimes the guns find a home in his store or collection and sometimes they walk right back out the door, but Cheney is always excited to see new things.
"I've owned a lot of guns through the years and I have sold a lot too," he said. "There are some you don't care about selling and some you sell that you wish you could have back. That's just the nature of the business and of collecting in general. No matter what, though, it's always fun."
Cheney's shop is located at 8527 Mount Highway in Bigfork and is open from 9 a.m. until 5 p.m. on weekdays and 10 a.m. until noon on Saturdays. For more information, call the shop at (406) 407-0698. ■
---