Bigfork man arrested in standoff
by
Scott Shindledecker
|
March 25, 2020 1:00 AM
Flathead Valley law officers arrested four wanted individuals on numerous warrants following a standoff early last Thursday morning in Kalispell They included: Jason L. Abregana, 27, of Kalispell; Dexter A. Sisco, 29, of Bigfork; Logan A. Mejak, 23, transient and Alexis Sullivan, 22, of Columbia Falls.
According to information from the Flathead County Sheriff's Office, at about 6 a.m., the Northwest Montana Regional SWAT team served a high-risk search warrant at a residence on Third Avenue West near West Center Street.
The search warrants for evidence in stolen property and burglary cases were served for both the Flathead County Sheriff's Office and Kalispell Police Department's Detectives Division. Numerous people were believed to be staying at the location, several of which had outstanding arrest warrants, violent assault histories and some were believed to be in possession of firearms.
The SWAT team had previously responded to a call involving one of the individuals.
Five people exited the location without incident but three refused to exit and barricaded themselves inside. The SWAT team forced those individuals out using teargas, flash bangs and it also broke down the rear door to the residence.
"We value our partners at the Kalispell Police Department and in our community and we are committed to your safety and security," Sheriff Brian Heino said. "If you are a serial criminal, beware, we will identify your crimes, we will find you and we will put you in jail."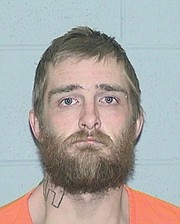 ---