Valkyries fall at state to close out hoops season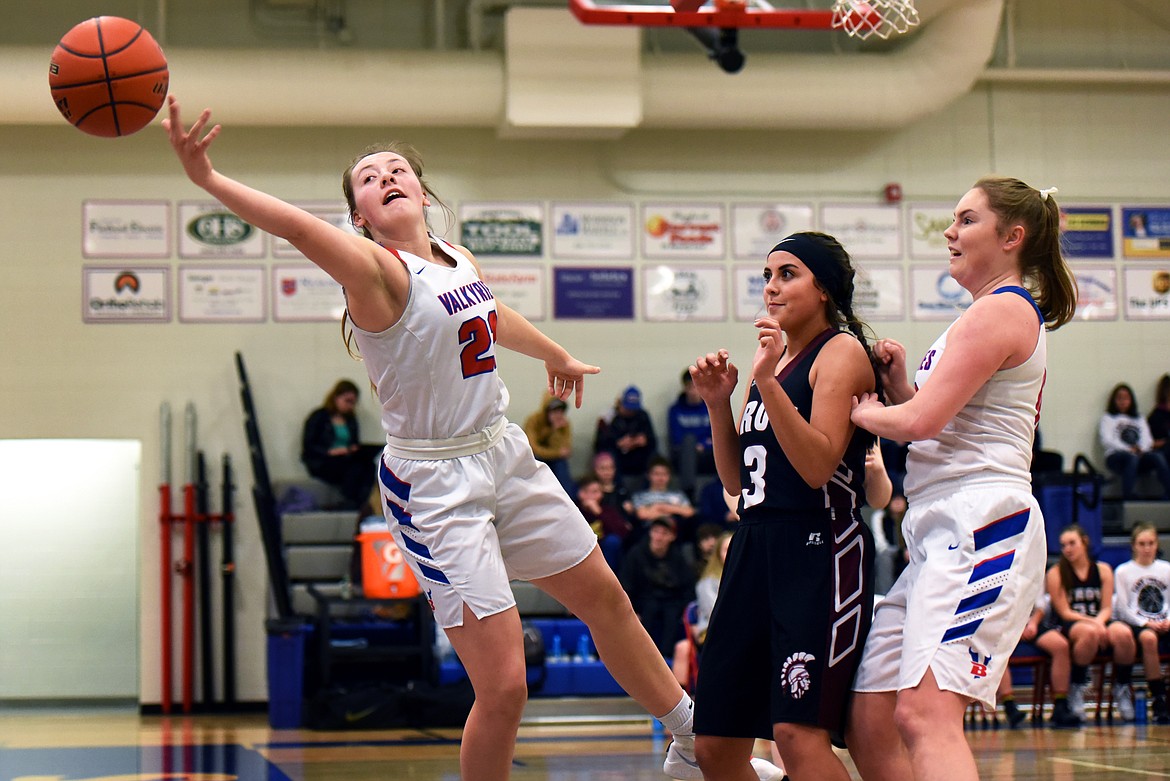 Bigfork's Scout Nadeau attempts to save the ball from going out of bounds against Troy in the first quarter Saturday. (Jeremy Weber/Bigfork Eagle)
The Valkyries basketball season came to a close at the Class B state tournament over the weekend, shortly before the tournament was shut down amid coronavirus fears.
Bigfork was able to keep the game close for a quarter against Big Timber in the Valkyries' opening game of the tourney Thursday, but fell off the pace in the second quarter before eventually falling to the Herders 47-35.
Bigfork trailed just 9-8 after one quarter of play, but Big Timber used a 16-5 run in the second frame to build a 25-13 halftime advantage. The Valkyries cut the lead to 31-22 after three, but were outscored again in the fourth as Big Timber pulled away for the win.
Ansleigh Edgerton led the Valkyries with 13 points and seven rebounds in the contest, while Emma Berreth and Ashton McAnally each scored six. Isabella Santistevan pitched in with four points, Madison Chappuis scored three, Audrey Buenz had two points and Scout Nadeau had one. McAnally also added five rebounds.
After the teams were told that play on Friday was uncertain, the Valkyries were able to get in their second game of the tourney against Malta before the tournament was cancelled later that day.
The Valkyries trailed 13-8 after one quarter of play against the M'ettes and were down 26-19 at the half, but Bigfork came back in the third to cut the Malta lead to 38-35 heading into the fourth quarter. Santisteven cut the lead to 44-43 with a three with 2:40 to play, but the Vals were unable to take the lead as Malta held on to win 48-43.
Edgerton led the Valkyries with 17 points in the loss while Berreth scored seven, Buenz, Chappuis, Nadeau and McAnally each had four points and Santistevan added three. Edgerton added six rebounds to lead Bigfork on the boards while Santistevan and Chappuis each added five.
The Valkyries finished their season 14-11.
---