Wind storm cleanup still underway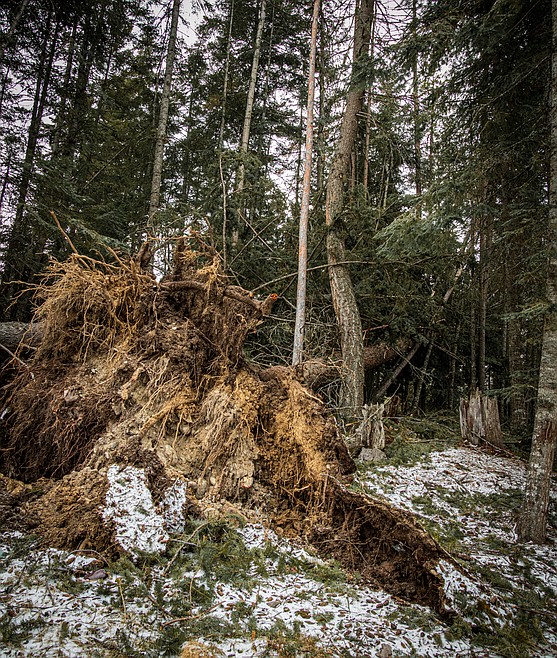 Roots of a massive tree that was uprooted in a wind event last weekend are pictured Saturday. Courtesy Kristy Pancoast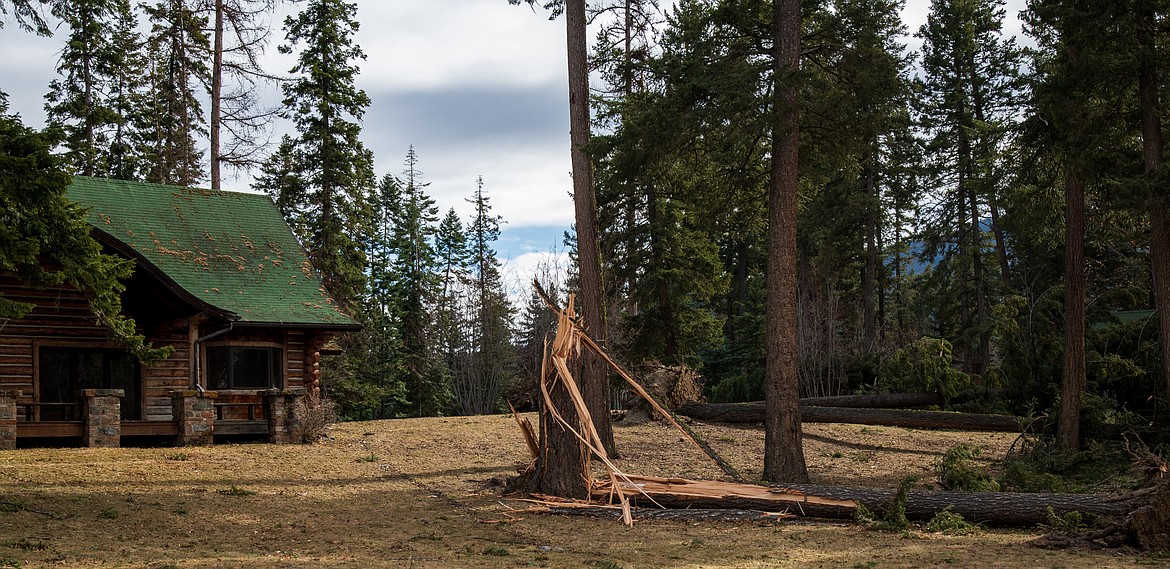 Fallen trees decorate the landscape near the Kootenai Lodgeon Saturday after a wind storm. Courtesy Kristy Pancoast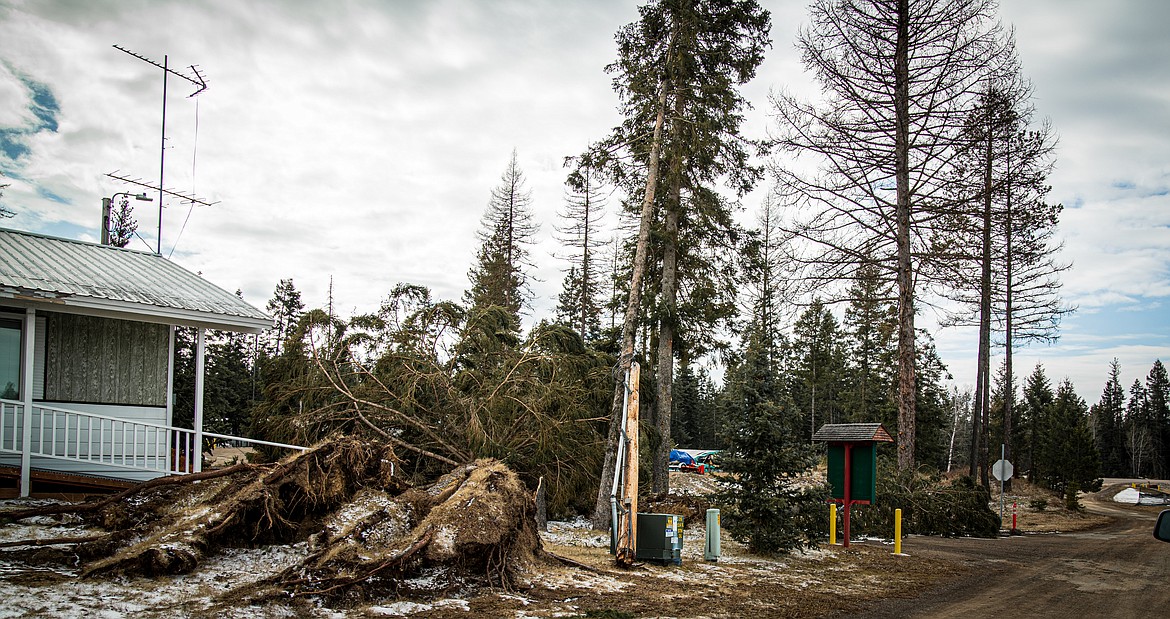 Damage from a recent wind storm is shown on Montana 83. Courtesy Kristy Pancoast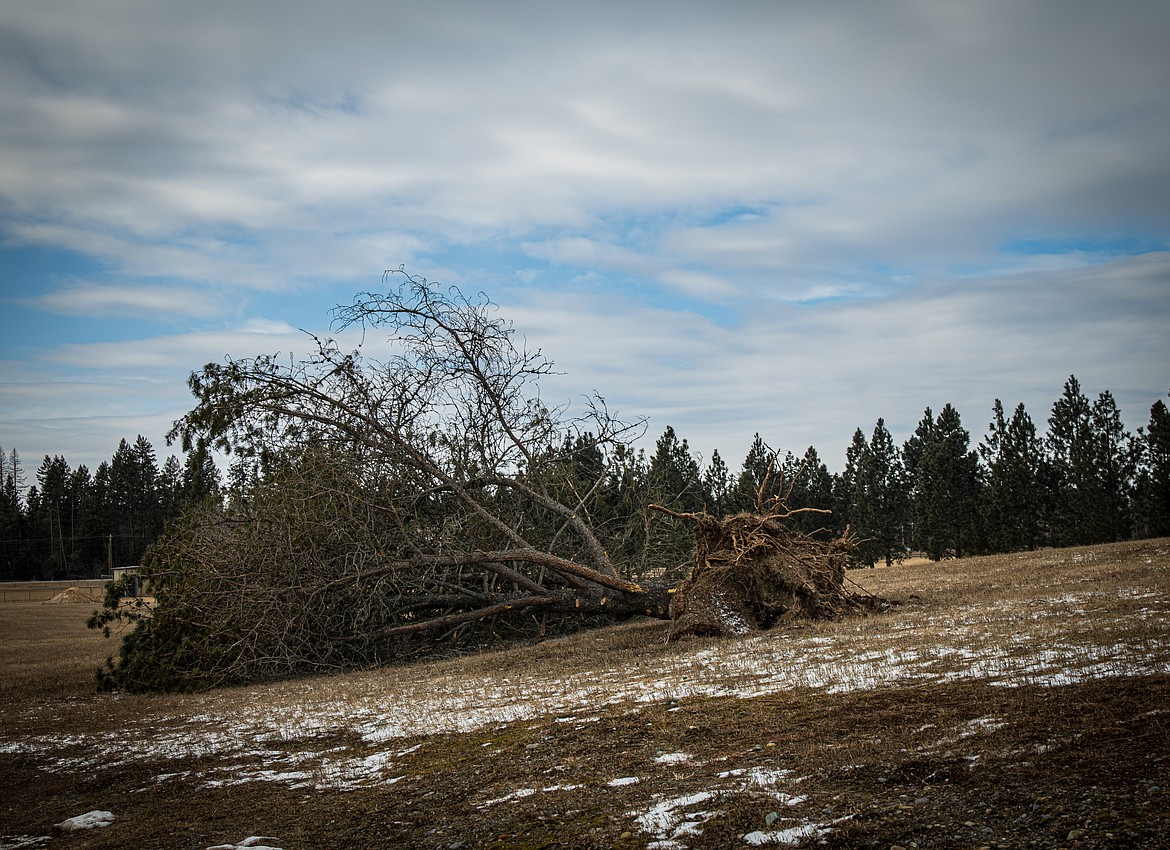 A massive tree was uprooted on Montana 83 during last weekend's windstorm. Courtesy Kristy Pancoast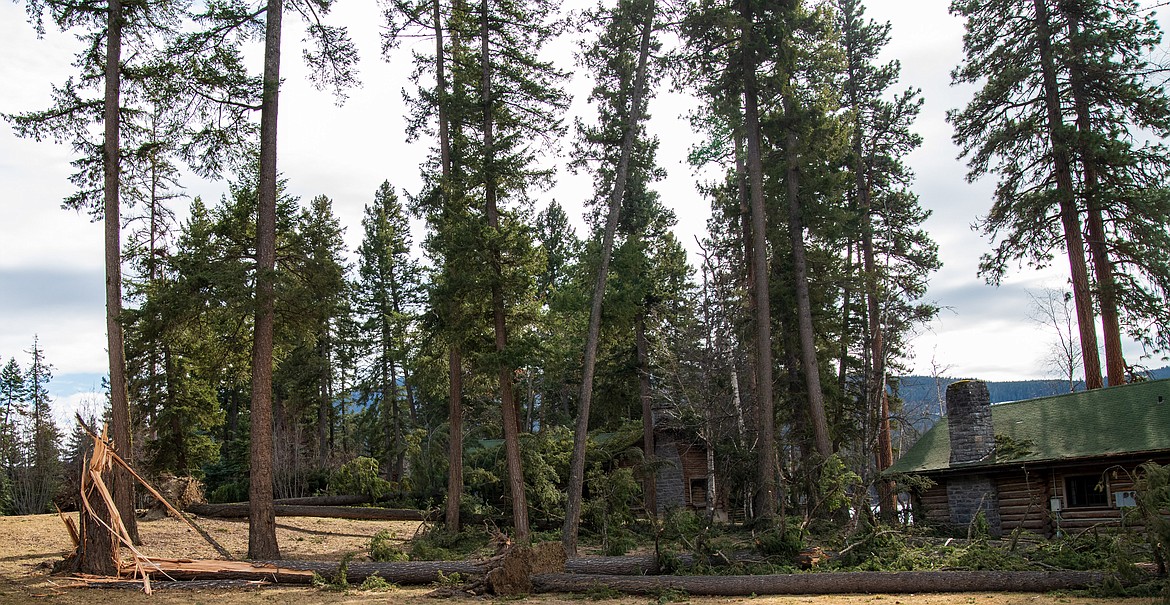 Fallen trees decorate the landscape near the Kootenai Lodgeon Saturday after a wind storm. Courtesy Kristy Pancoast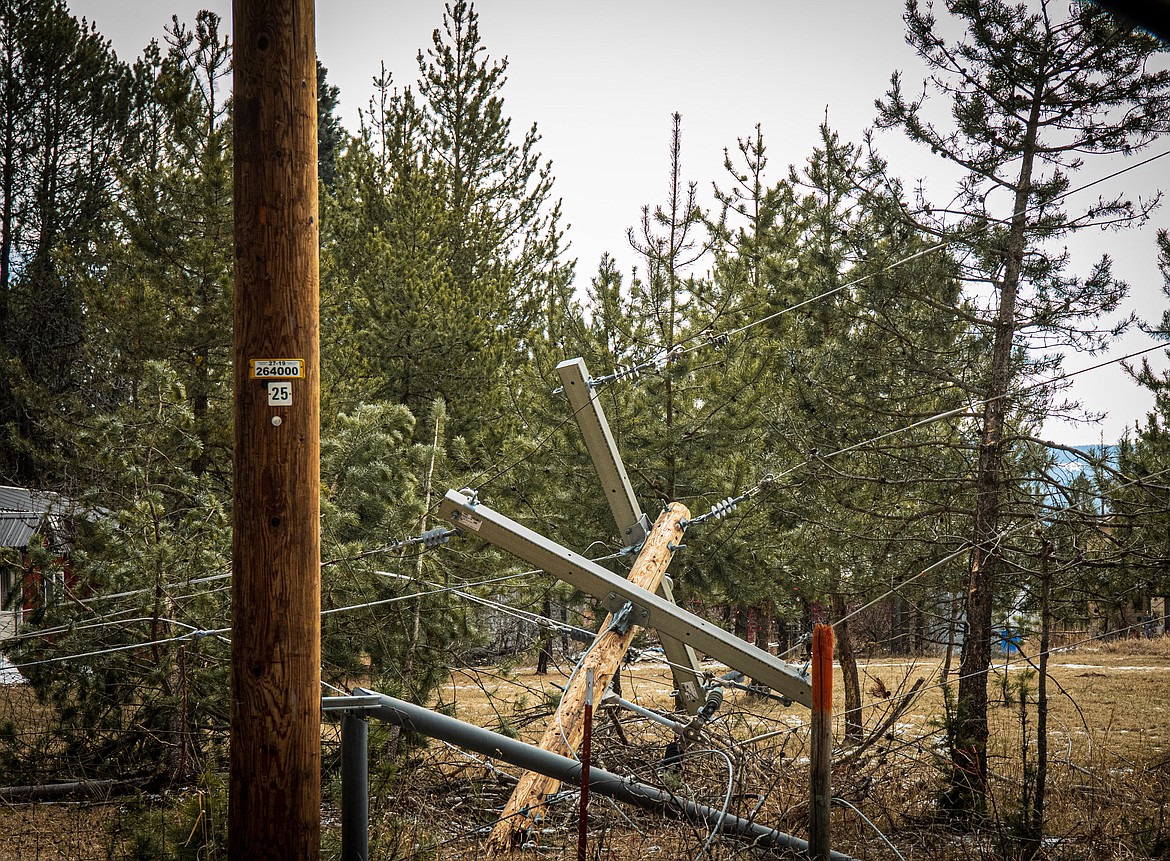 A downed power line is pictured on Montana 83 last Saturday, following a wind storm that left thousands without power. Courtesy Kristy Pancoast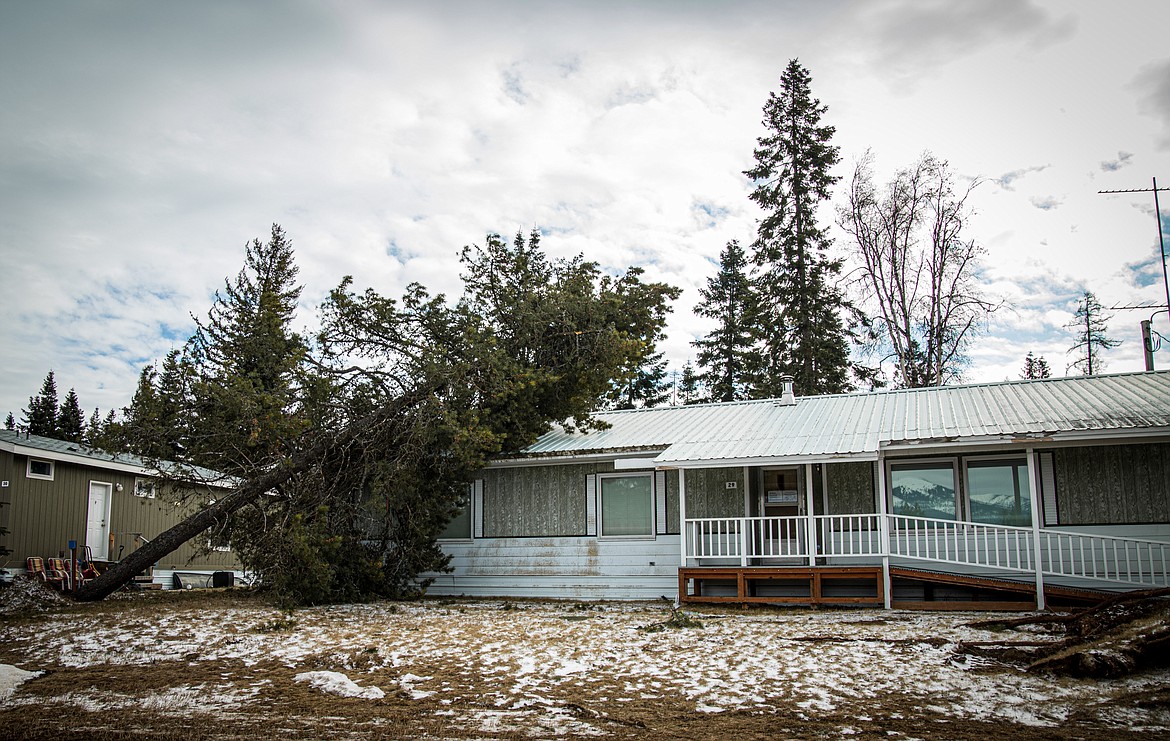 A tree fell on a house on Montana 83 during last weekend's wind storm.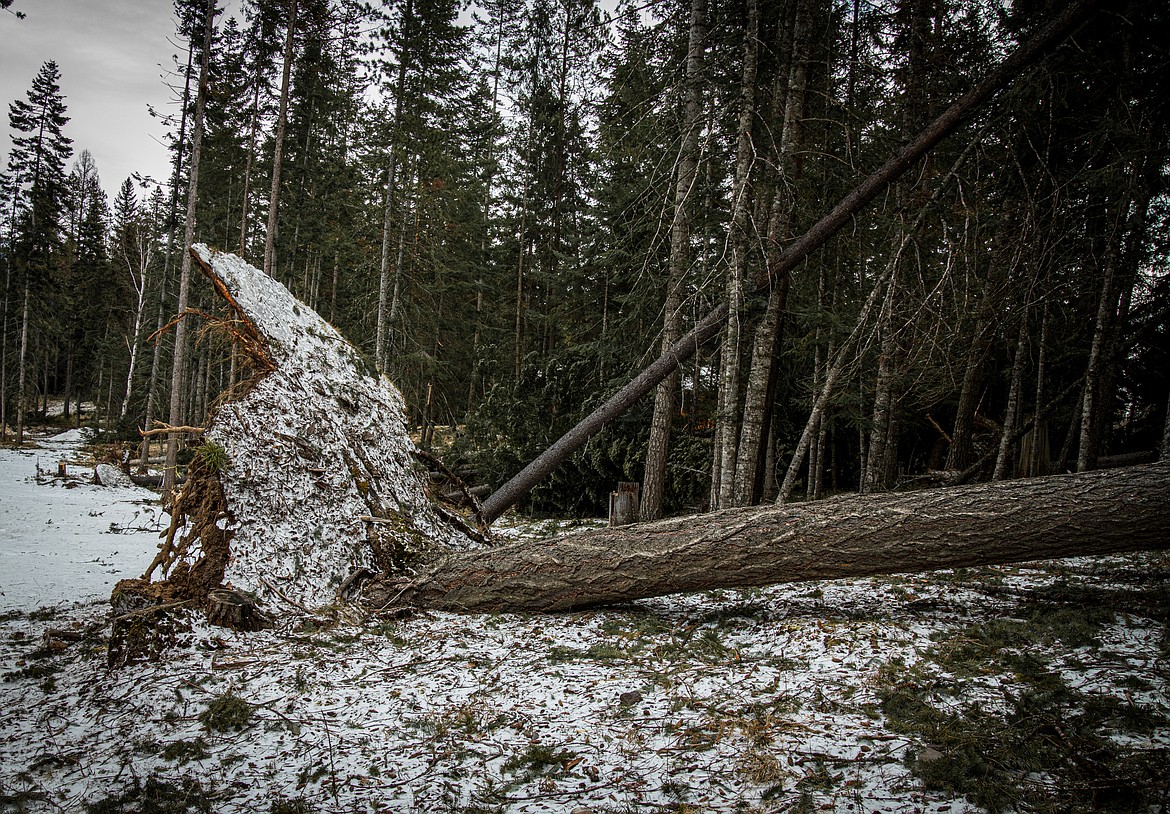 A massive tree was uprooted on Montana 83 during last weekend's windstorm. Courtesy Kristy Pancoast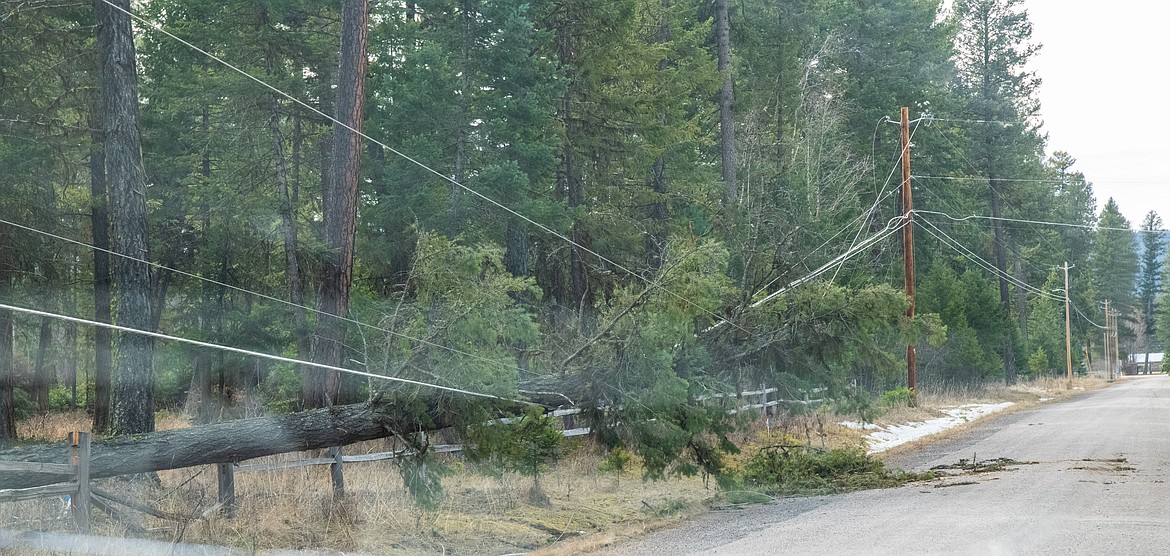 A downed power line is pictured on Montana 83 last Saturday, following a wind storm that left thousands without power. Courtesy Kristy Pancoast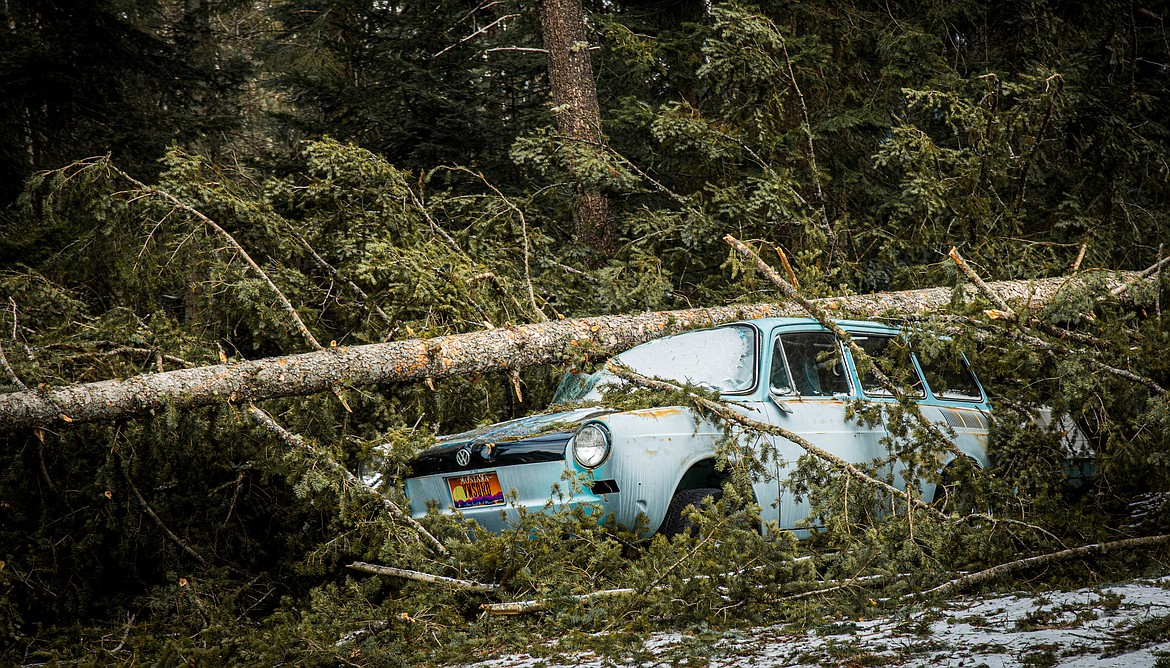 A toppled tree landed on a car on Montana 83 in the Ferndale area during last weekend's windstorm that left thousands without power. (Courtesy photos by Kristy Pancoast)
Previous
Next
Hundreds of trees are still toppled throughout the Flathead Valley following Friday's storm that left thousands without power.
Many of the fallen trees were strewn over power, cable and phone lines, throughout private properties and in some areas, over roads and trails.
Crew members with Rocky Mountain Contractors on Monday morning were still hard at work along the east shore of Flathead Lake and in Ferndale clearing large trees and working to restore power.
Zach Harms, one of the crew leaders with Rocky Mountain, which was hired by CenturyLink, said there were still "hundreds of fallen trees" in need of clearing and dozens of those rested across power lines. Harms said there are still at least four separate crews working and he anticipates the job will continue at least throughout this week and possibly into next.
"We have the main power back up in most of the spots at this point, but it may be another week or two until people have working phones and cable," Harms said.
According to several weather resources, wind gusts on Friday ranged from 65 to 80 mph. Some people in the area said winds were aggressive throughout Friday night and into Saturday morning. Harms said there were multiple reports of trees landing on sheds, cars and other objects.
One employee working to fix a powerline Monday morning near Woods Bay said he has responded to these types of scenarios for more than 40 years.
"This is the worst I've ever seen in my career," he said. "I've never seen anything like it."
Kristy Pancoast of Ferndale said seven trees fell on her property on Montana 83 during the wind storm and that she and her husband were without power for 29 hours, beginning early Friday evening.
"It was pretty chaotic," Pancoast said. "Of the three [wind storms] that we have had in the last few months, I think this one was the worst….My husband and I, we just sat here and we prayed."
After the storm, Pancoast, a photographer, drove around the area and captured the damage the storm left in its wake. She observed people with chainsaws working to clear debris, and fallen trees that had smashed cars and buildings. She also saw people bundled up in their cars, either trying to stay warm or charging electronic devices. But within the chaos, she also saw hope: people helping those in need both with physical assistance clearing trees or with offers of food or a hot shower for those without electricity.
"We saw a lot of neighbors helping other neighbors," Pancoast said.
Crews weren't able to give an exact time or day they believe power, cable and phone lines would be completely restored throughout the greater Ferndale and Bigfork areas. However, they said by the end of the week they were hoping to have most of the work finished. Crew members added that those situated further back from main roadways should expect longer waits.
While the Ferndale and Bigfork areas got hit hard by Friday's storm, the gusts ravaged other areas of the valley as well and cleanup efforts are still widespread.
For example, leaders with Whitefish Legacy Partners said there is very extensive blowdown in the areas between Smith Lake and Swift Creeks. A portion of the trail system over there is impassable, according to Margo Jadkowski, Program Director for the organization.
She said there are hundreds of trees still down despite starting cleanup efforts and Whitefish Legacy Partners is awaiting information from the Montana Department of Natural Resources and Conservation before moving forward. Jadkowski said they expect the department will initiate a salvage effort for the fallen timber in the area.
She added that Whitefish Legacy Partners is asking the public to exercise caution in the area and should pay attention to the more fragile trees that look as though they may be impacted by the next storm.
"There is still a concern of instability of those trees that aren't even down yet," Jadkowski said. "This is unlike anything we've ever seen. It looks like a tornado came through." ■
Reporter Kianna Gardner can be reached at 748-4407 or kgardner@daliyinterlake.com
---