Arguments in Bigfork Ponzi scheme presented in federal appellate court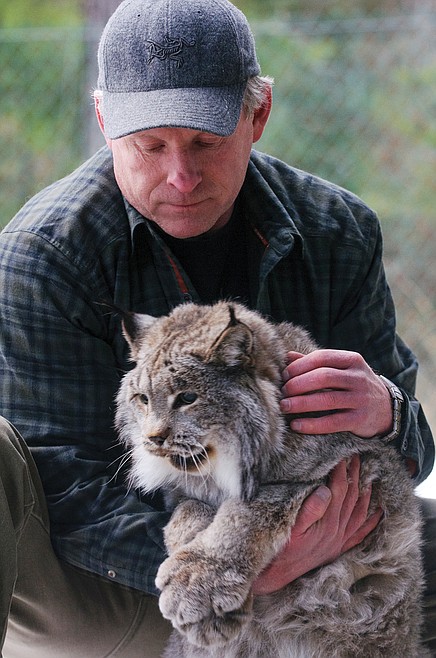 Kevin Moore pets his Canada lynx Misha at his home near Creston in December 2013. (Daily Inter Lake file photo)
A three-judge panel on the U.S. 9th Circuit Court of Appeals heard oral arguments Friday, March 6, in a case involving a Bigfork man who was convicted of swindling $2.7 million from 36 investors in multiple Ponzi schemes between 2013 and 2016.
John "Kevin" Moore, 63, was sentenced to 10 years and five months in federal prison, followed by three years of supervised released. He was also ordered to pay $2.2 million in restitution and $1.9 million in forfeiture. He is currently being held at Federal Correctional Institution, Morgantown Kennedy Center in West Virginia, a minimum security prison for male inmates.
In an August 2018 trial, Moore was indicted on 21 counts, including 11 counts of wire fraud, nine counts of money laundering and one count of making a false statement to a federal agent.
At the trial, prosecutors presented evidence that Moore established two companies, Big Sky Mineral Resources in 2014 and Glacier Gala in 2012.
Moore claimed funds invested in Big Sky Mineral would be used to purchase leases for mining activities in Montana and Arizona with quick returns delivered in as little as 30 days.
When soliciting funds for Glacier Gala, Moore told investors he could turn a profit by buying, flipping and storing high-end art.
However, evidence showed that Moore actually used new investors' money to pay off earlier investors and spent hundreds of thousands of dollars on personal purchases such as art, vehicles and mortgage payments on two Bigfork homes.
Investigations into Moore's business ventures began after Montana Deputy Securities Commissioner Lynne Egan received four complaints from individuals who alleged they received minimal or inaccurate information from Moore about Moore's company, Big Sky Mineral Resources.
The latest development in the case occurred in Portland, Oregon, where attorneys argued about the specifics of jury instructions and whether or not Moore should have been tried in Missoula, closer to where the majority of activities occurred, instead of in Great Falls.
Defense attorney Shandor Badaruddin argued that jury instructions didn't clearly specify that jurors needed to reach a unanimous verdict on all the four schemes in the case, rather than considering the schemes individually.
"My client was denied his right to a unanimous verdict by virtue of this inadequate instruction," Badaruddin told judges.
United States Attorney Ryan George Weldon, countered that jury instructions were clear and did not leave room for juror confusion.
"The jury knew that every single exhibit corresponded to the count that was charged," Weldon said, referring to the 21 counts.
Weldon further argued that the case was tried in the correct location and that there was no prejudice held against Moore. He noted that Moore's counsel was originally located in Great Falls and the petition to change location only came after he acquired new counsel located in Missoula.
"Really the financial records prove the crime," Weldon said. "You have the money coming in and now Mr. Moore has to explain, why are all these personal expenditures occurring?"
After roughly 30 minutes of oral arguments, split between both sides, the court adjourned for the morning.
According to the American Bar Association, once oral arguments are concluded in an appeal, the appeals court judges will discuss the case and issue a written decision. At the discussion conference, one judge will be selected to write an opinion. Judges who disagree with the majority have the option of authoring a dissenting opinion.
If the U.S. 9th Circuit Court of Appeals finds in favor with the lower court, the case is concluded, according to the American Bar Association, unless the losing party should appeal to a higher court.
If the original judgement is reversed, the case could return to a lower court where a new trial may be held, the court's judgement may be modified or the trial court could reconsider the case based on additional evidence and the decision by the appellate court. ■
---