Bigfork All-Stars to battle on court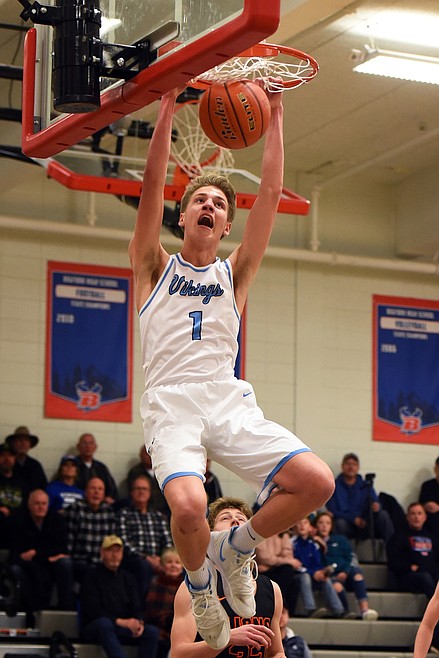 Bigfork's Colt Thorness throws down a dunk in the third quarter against Eureka Thursday. (Jeremy Weber/Bigfork Eagle)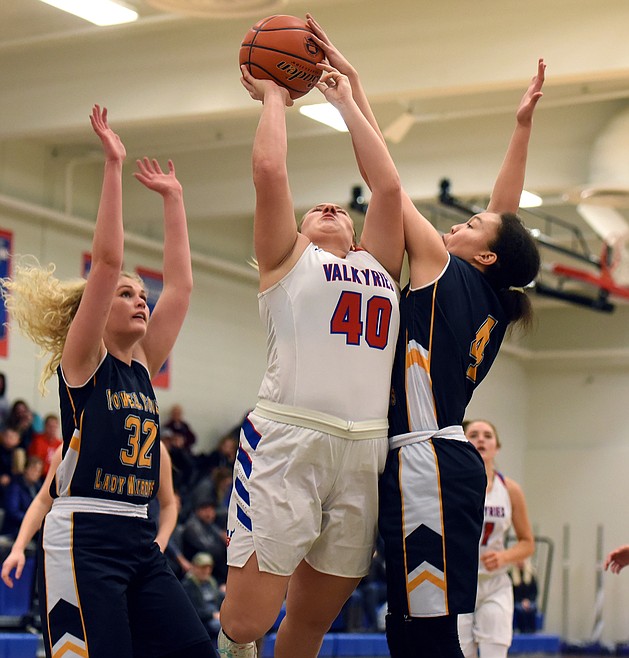 Ashton McAnally battles Deer Lodge's Nia McClanahan for a rebound. (JEREMY WEBER/Bigfork Eagle)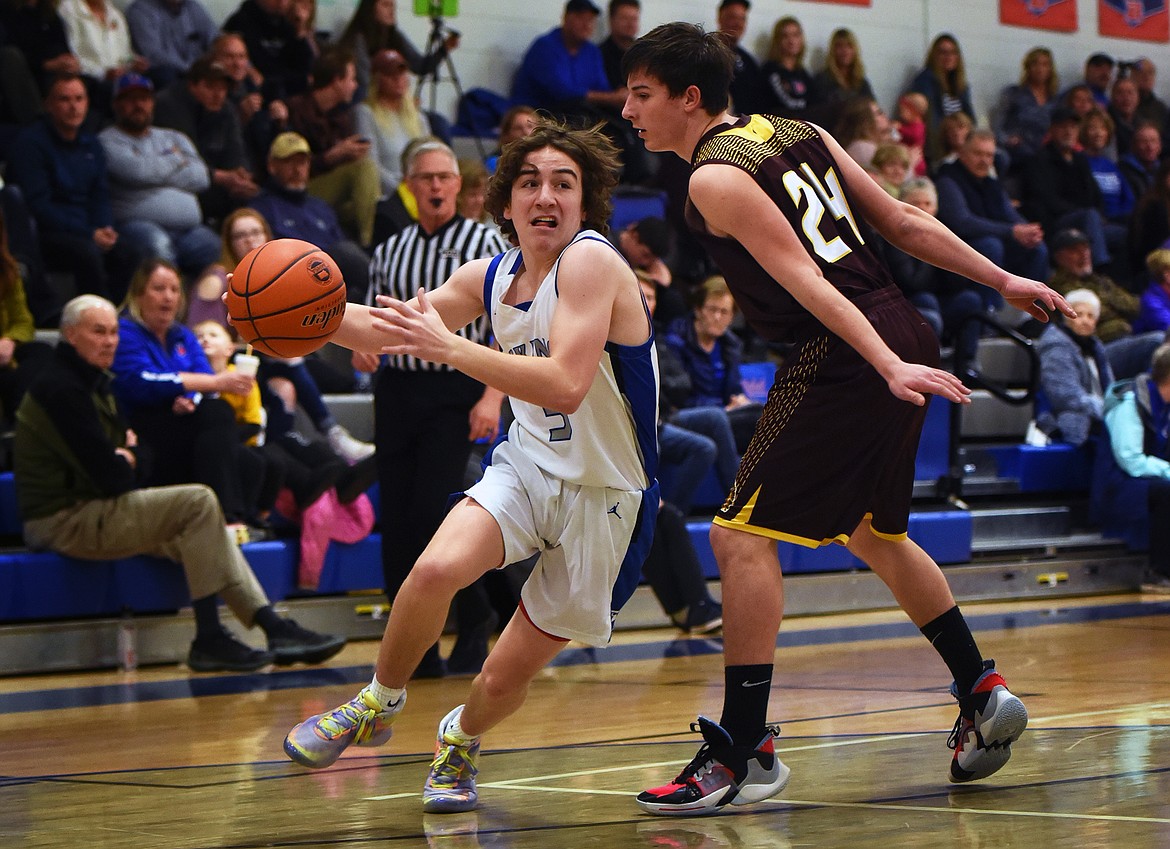 Bigfork's Walker Fisher makes a move to the basket in the the third quarter against Troy Saturday. (Jeremy Weber/Bigfork Eagle)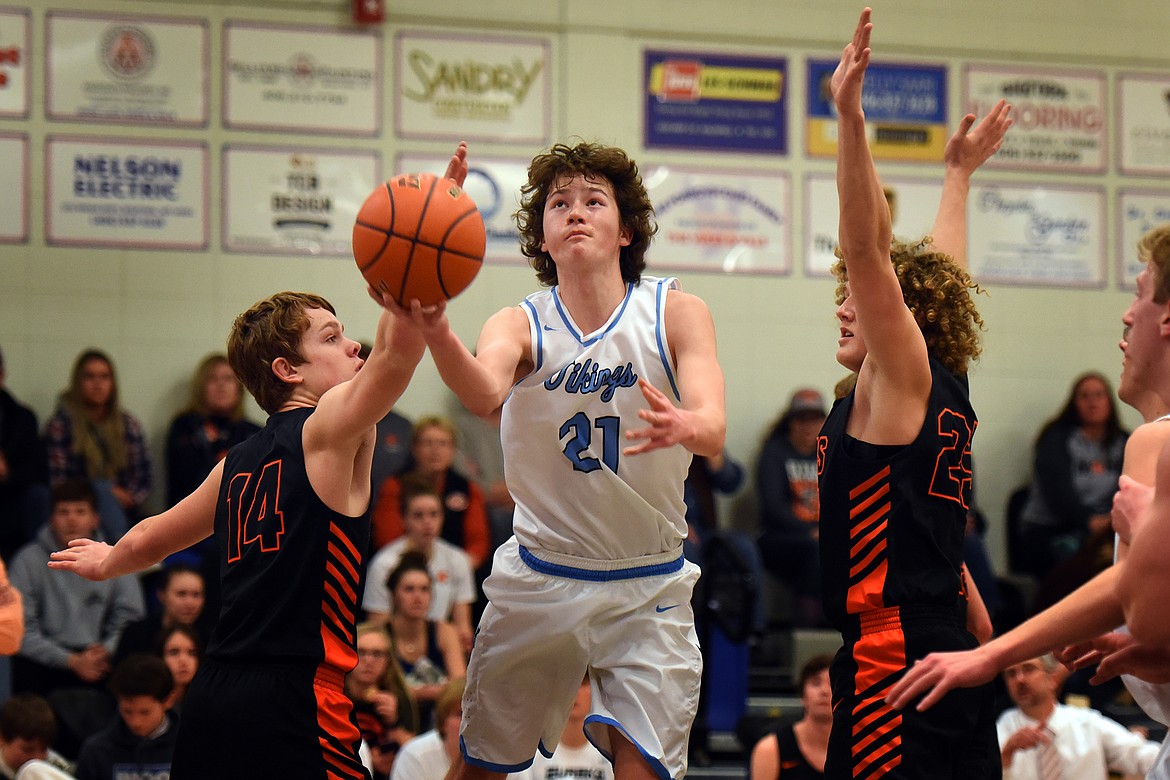 Isak Epperly goes up for a layup against Eureka Thursday. (Jeremy Weber/Bigfork Eagle)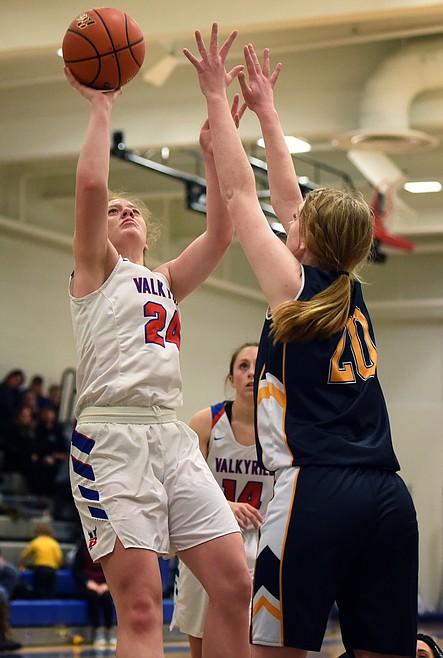 Ansleigh Edgerton goes up for a shot in the lane against Deer Lodge. (JEREMY WEBER/Bigfork Eagle)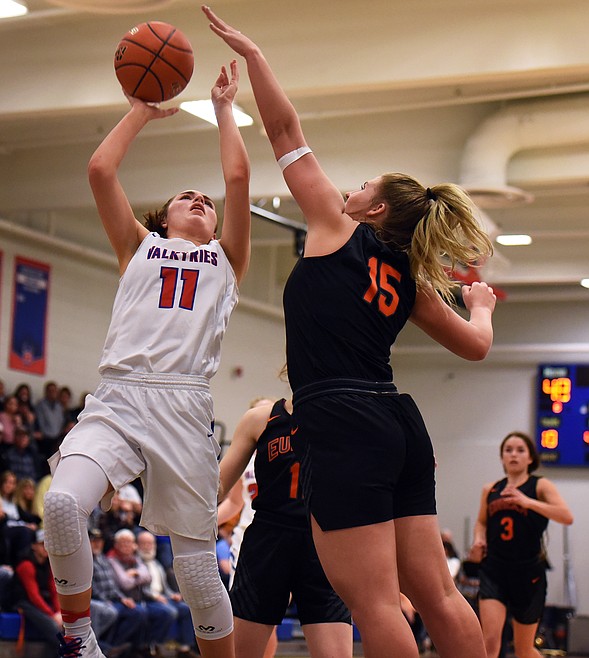 Bigfork's Emma Berreth goes in for a tough shot against Eureka's Maggie Graves in the fourth quarter Thursday. (Jeremy Weber/Bigfork Eagle)
Previous
Next
Six Bigfork hoopsters will be taking the court one last time this season March 26 as the Ronan Event Center hosts the 25th annual Mission Valley All-Star Game.
Ansleigh Edgerton, Ashton McAnally, Emma Berreth, Colt Thorness, Walker Fisher and Isak Epperly will join the top high school basketball players from around the area for what promises to be an entertaining exhibition with a few altered rules.
The Mission Valley All-Star Games will feature 20 minute halves if nine or more players are present for both teams and 16 minute halves if there are fewer than eight players. The penalty will be enforced as two shots after 10 team fouls with no 1-and-1 situations. Each player will be alloted six personal fouls before being disqualified and players will only be allowed to play man-to-man defense.
If the teams are tied at the end of regulation, overtime will consist of a sudden-death free throw shootout by five players from either team.
There will also be three-point shooting competitions for both the boys and girls at halftime of each game.
Thorness, Fisher and Epperly helped lead the Vikings to the divisional tournament this season as Fisher averaged seven points, three rebounds and two steals per game, Epperly averaged nine points, four assists, three steals and three rebounds per contest and Thorness accounted for 12 points, eight rebounds and five blocks per game.
Edgerton, McAnally and Berreth helped lead the Valkyries to a second-place finish at the Western B Divisional Tournament and will continue their push for a state title at the state tournament in Butte this weekend. Berreth is averaging 10.7 points, 4.1 rebound and 2.6 steals per game heading into the state tournament while Edgerton has averaged 13.5 points, 7.8 rebounds and 1.6 steals and McAnally has been putting in 3.8 points, 4.4 rebounds and 1.7 steals per game.
The girls all-star game is scheduled to start at 6:30 p.m. with the boys game getting underway at approximately 8 p.m.
Girls Team A
McKennzie Cannon (Sr) Hot Springs
Carlee Fryberger (Jr) Charlo
Ansleigh Edgerton (Sr) Bigfork
Destiny Manuel (Sr) Charlo
Azia Umphrey (Sr) Mission
Katelyn Christensen (So) Hot Springs
Ashton McAnally (Sr) Bigfork
Madison Clairmont (Sr) Ronan
Halle Adams (Jr) Arlee
Kieauna DeRoche (Sr) Ronan
Kimmy Curry (Fr) Plains
Olivia Garland (Sr) Mission
Girls Team B
Kylee Altmiller (Sr) Plains
Sydney Brander (Jr) Mission
Liev Smith (Jr) Charlo
Regan Clairmont (Sr) Ronan
Peyton Lammerding (Sr) Arlee
Sydney Jackson (Sr) Hot Springs
Karolyna Buck (Sr) Mission
Jaylea Lunceford (Jr) Ronan
Izzy Santistevan (Sr) Bigfork
Sarah Stanger-Gardipe - Two Eagle
Emma Berreth (So) Bigfork
Mossy Kauley (Jr) Polson
Sage Jackson (Sr) Hot Springs (injured)
Boys Team A
Cody Tanner (Sr) Arlee
Colt Thorness (Sr) Bigfork
Zarec Couture (Jr) Ronan
Treydon Brouillette (Sr) Plains
Gunner Grisak (Sr) Polson
Anthony Charlo (Sr) Two Eagle
Anton Lefthand (Sr) Polson
Nate Clark (Jr) Charlo
Jack McAllister (So) Hot Springs
Zoran LaFrombois (Fr) Mission
Kolten Gardipe (Sr) Mission
Walker Fisher (Jr) Bigfork
Boys Team B
Jedi Christy (Sr) Mission
Billy Fisher (Sr) Arlee
Kade Pardee (Jr) Plains
Brandon Knudsen (Sr) Hot Springs
Trey Don't Mix (Sr) Ronan
Ryker Wenderoth (Sr) Polson
Beau Kelley (Sr) Polson
Phil Marquez (Jr) Charlo
Jake Weyers (Sr) Plains
Isak Epperly (Fr) Bigfork
Saul Black Weasel (Sr) Ronan
Isaiah Nasewytewa (Jr) Mission
---