Happy trails: Jewel Basin is a hiker's paradise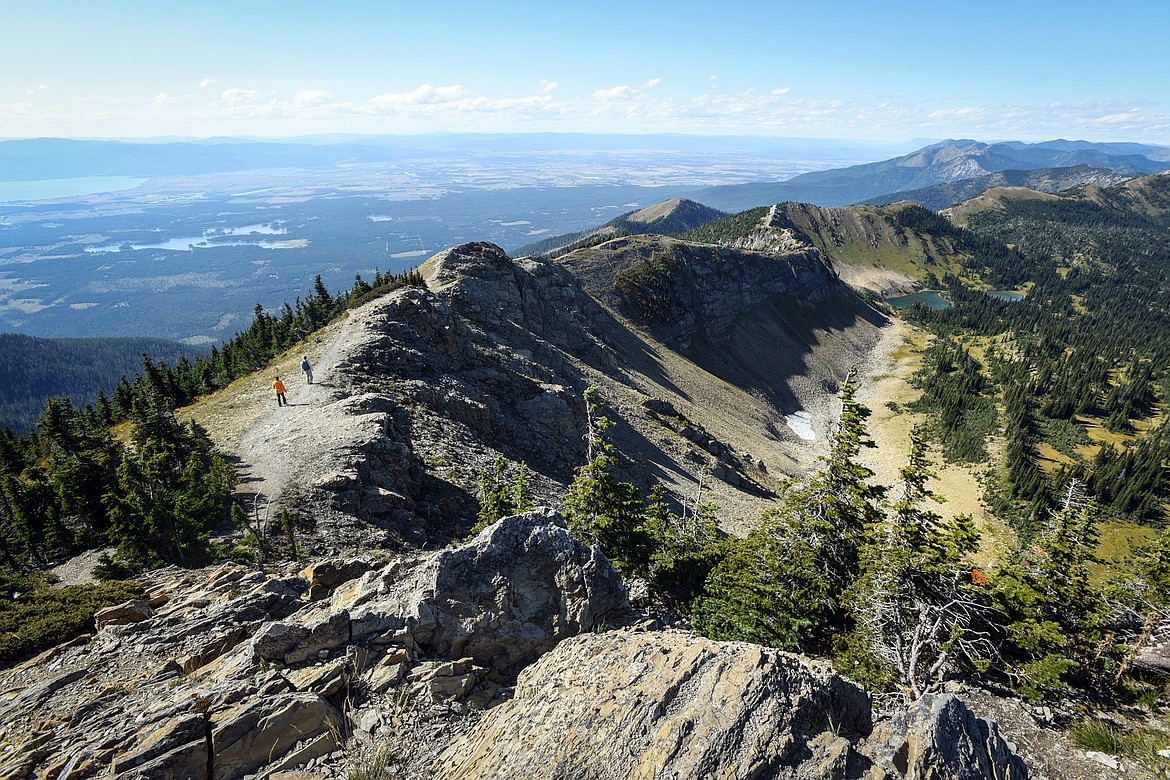 Two hikers descend from Mount Aeneas in the Jewel Basin Hiking Area on Sunday, Sept. 15. (Casey Kreider/Daily Inter Lake)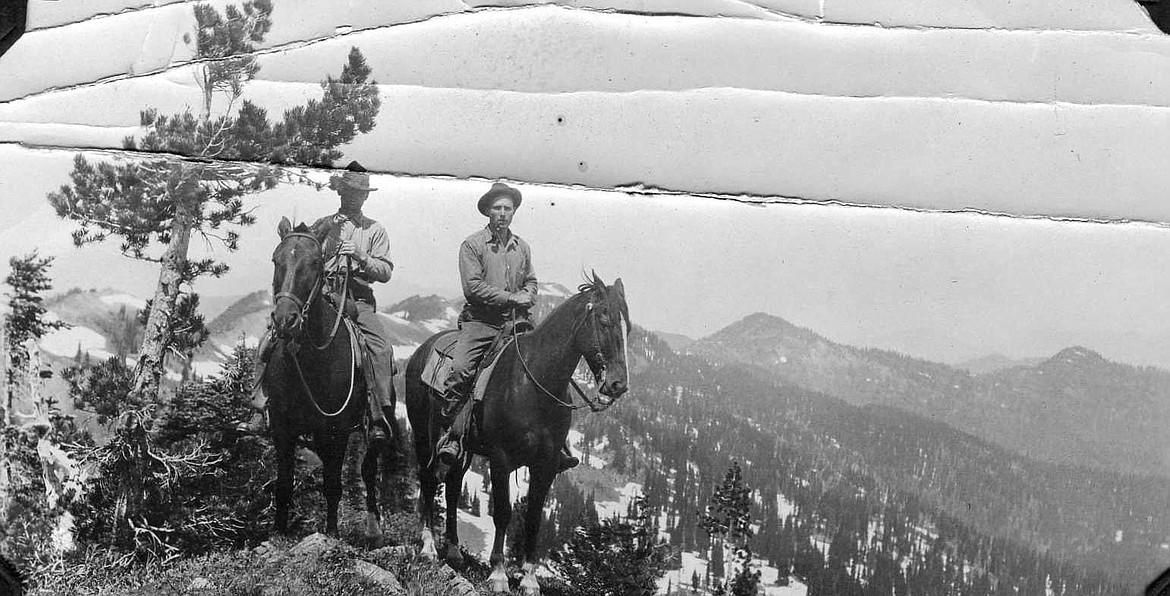 Ranger Thompson & L.G. Hornby on L.O. inspection, On ridge near top of Mtn Aeneas. Courtesy of the U.S. Forest Service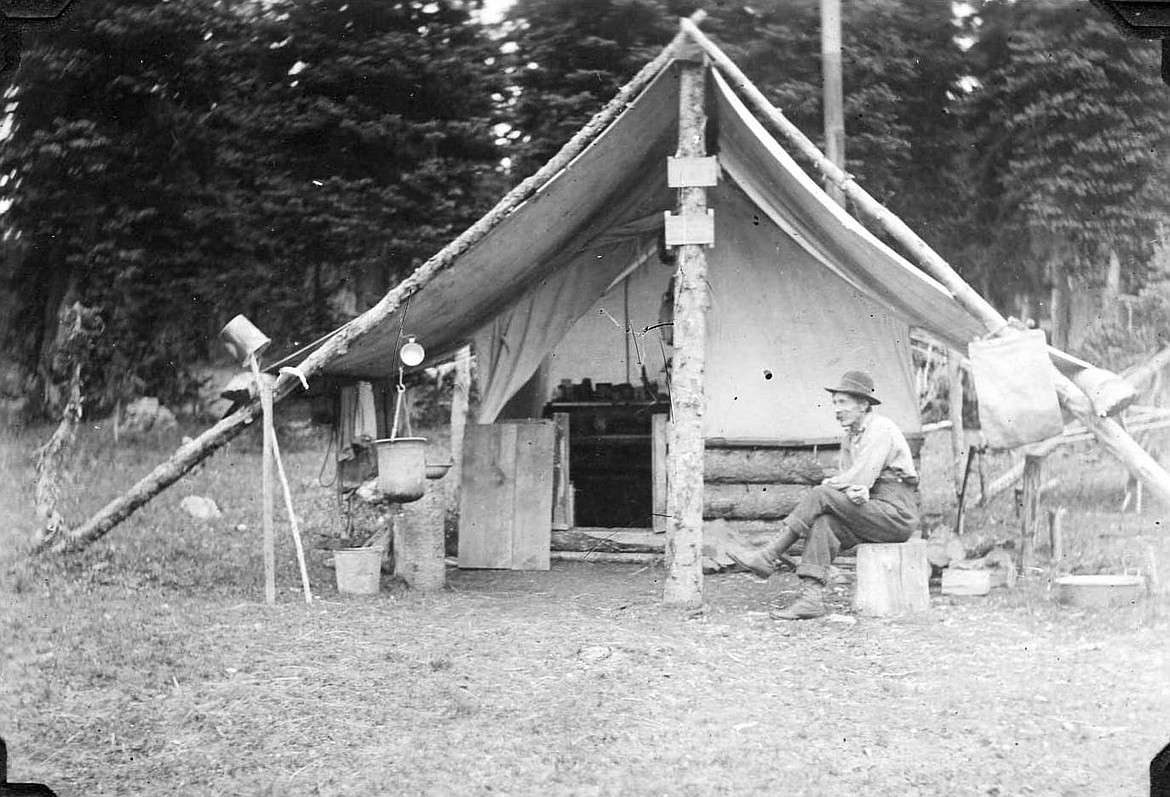 Fred Derry Lookout man on Mt. Aneas camp in Jewel Basin 1914 &15 Echo Dist. Courtesy of the U.S. Forest Service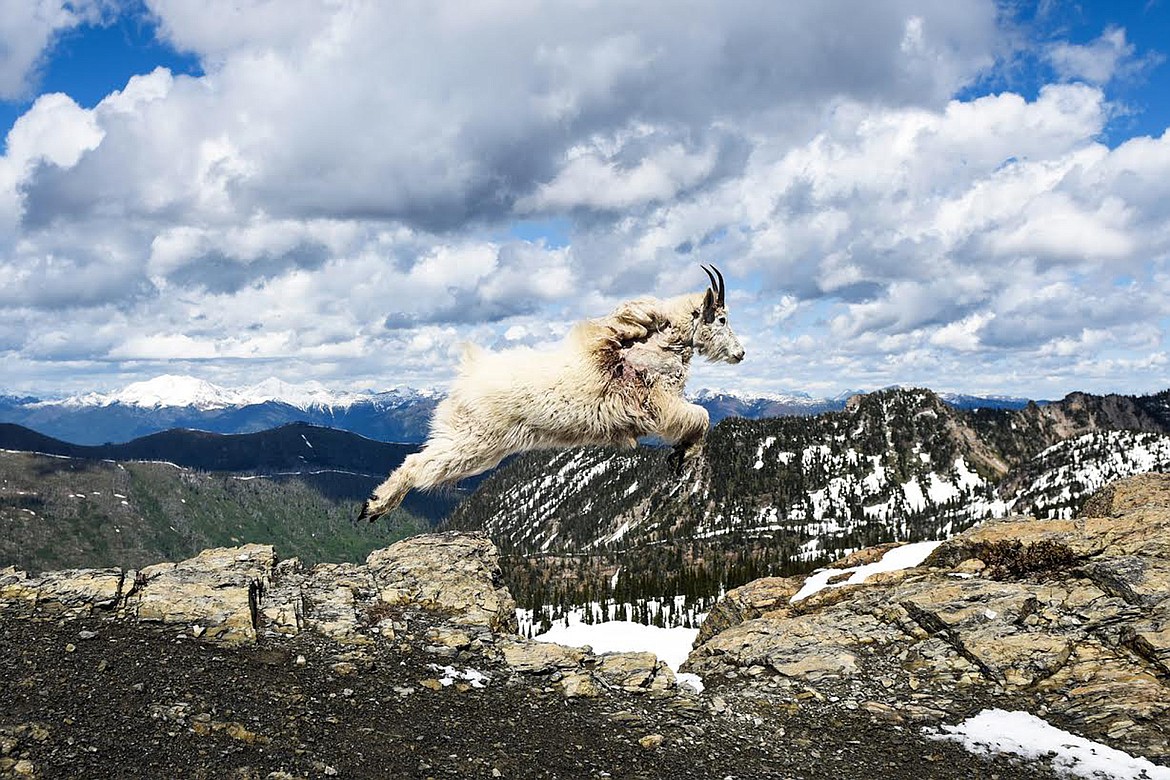 A mountain goat leaps across a gap in a rocky ledge in the Jewel Basin last summer.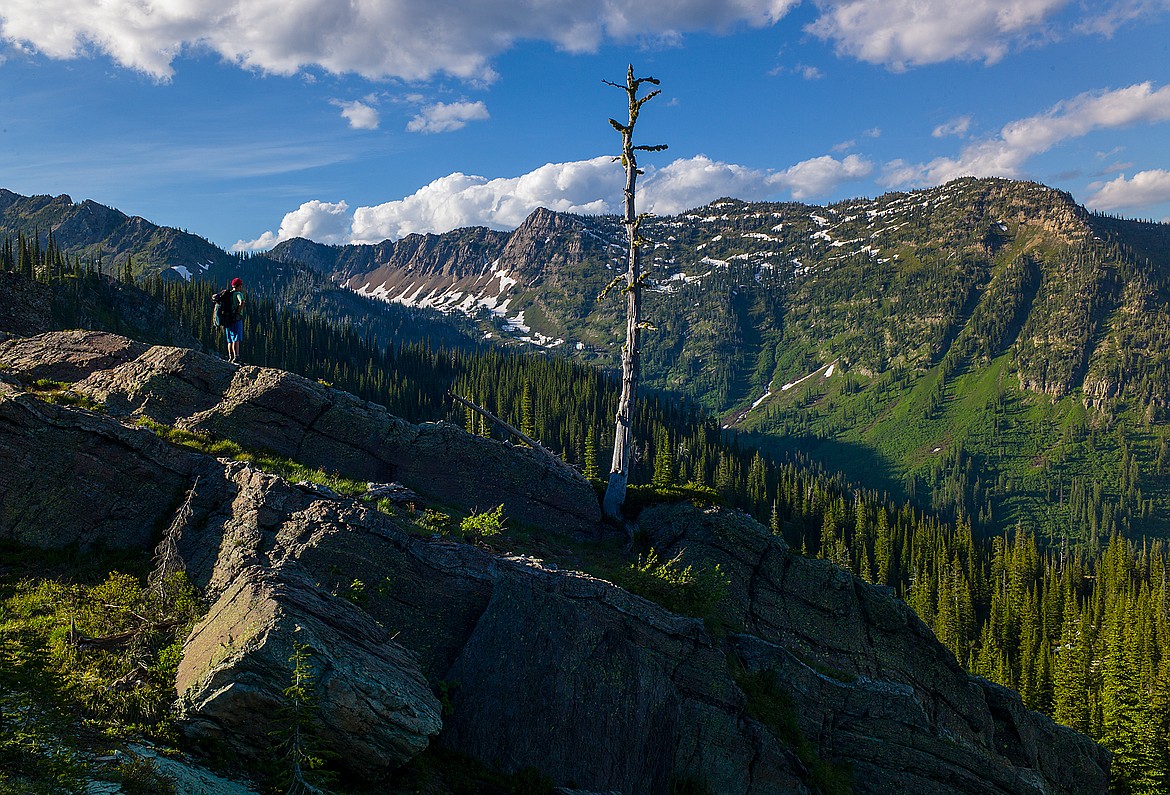 The Jewel Basin is rugged country if you get off-trail.
Previous
Next
by
Mackenzie Reiss
|
June 24, 2020 1:00 AM
The 15,000 acres of the Jewel Basin contain some of the most prized hiking and alpine fishing terrain in the Flathead Valley. This natural gem boasts a 35-mile network of trails and more than two-dozen lakes with primitive camping spots dispersed throughout the landscape. At long last, the roads leading to these popular trailheads are beginning to clear under the warm, albeit intermittent, summer sun. The Jewel is heralded for its close proximity to civilization — just 14 miles outside Bigfork — and a mix of moderate to difficult trails that can be the perfect fodder for a family day hike, or on the steeper terrain, provide a proving ground for physical prowess. Like most hikes, and life itself — it is what you make it.
"Jewel Basin has been recognized as a special place for a long time," said National Forest spokeswoman Lauren Alley. "Like many National Forest trail systems, Jewel Basin trails were established in a combination of Native American travel routes and early day settlers escaping to the mountains to explore, hunt and fish. Later on trail engineers have worked to bring these historic routes up to standard specifications, but that is always a work in progress."
The Wilderness Act of 1964 protected 9.1 million acres of federal land, with the Jewel Basin among it, along with the nearby Bob Marshall Wilderness, according to a 2007 article in the Lakeshore Country Journal.
As protected territory, the Jewel Basin is designated as a hiking-only area, and that fact coupled with its proximity to civilization, makes it a popular destination for locals and tourists alike. As of this week, the road to the Jewel's epicenter, Camp Misery Trailhead, is still covered in snow less than a mile out. However, many users have opted to park where the snow begins and hike the remaining distance to the trailhead.
Despite the area's surging popularity, it's still possible to find slices of solitude in the Jewel by beginning your journey outside of Camp Misery. Instead, start your hike from alternate entry points such as Wounded Buck, Clayton, Graves or Wheeler Creeks trailheads, all of which are accessible by Westside Hungry Horse Reservoir Road #895.
In the early season, trails that traverse the front side of the Swan Mountain Range are the first to clear, including Noisy Notch Trail 8, a moderate 5.3 mile loop, and Mount Aeneas Trail 717, which is easily one of the most popular hikes in the Jewel Basin.

Alley described the route as "a strenuous three-mile climb to the peak of a mountain offering panoramic views of the Jewel Basin and surrounding Flathead Valley." Mountain goats are known to frequent the ridgeline, so it's important for hikers to give them plenty of space, especially if they are on-trail, and to wait patiently until they move along. While the ascent up Aeneas can be challenging, with 1,700 feet of elevation gain, the rewards are plentiful. From the summit, hikers can look down across expansive meadows blanketed with wildflowers, dotted with turquoise lakes, with Glacier National Park visible to the north.
The Jewel has 11 unnamed peaks and five named mountains, with Aeneas being the only one with a trail leading to the summit. The others can be achieved with sound route-finding techniques and minimal "scrambling," giving way to pleasant ridge walks, according to a guide on www.summitpost.org.
"Starting from Camp Misery, all trails climb for a short time before reaching a notch or ridge in the Swan Range. From the reservoir side most trails also climb, some being gentler than others, such as the Clayton Lake Trail 420 versus the Graves Creek Trail 1," she explained.
The majority of trails have lakes as their destination points, or wind past one along the way, Alley noted. Fishing is a popular pastime for those who frequent the Jewel as the many alpine lakes are stocked with westslope cutthroat trout on a rotating basis every three years. Exceptions are the Picnic and Twin Lakes, and while Alley was hesitant to divulge top fishing spots, she did recommend trail users venture beyond the first lake they see for better fishing opportunities.
"You can find some sizable cutthroats in some of the lakes. When you find the spot, and the right time of day, you can have an amazing day fishing out in the Jewel," Alley said. The keep limit is three fish per person per day.
As the summer wears on and the snow recedes entirely, the Jewel Basin will make more and more of its natural wonders and scenic passages accessible to the public. From there, it's up to us to explore and discover the ins and outs of this versatile land for ourselves. ■
---