Unlike many summer events, Bigfork Rodeo is a go
by
Bret Anne Serbin
|
June 17, 2020 1:00 AM
Providing a safe and fun environment will be the foremost priority for the Bigfork Summer Pro Rodeo next month as the event is scheduled to take place July 4-6.
Online support has been overwhelming since the rodeo made the announcement on Facebook last week that it intends to hold the rodeo as planned despite continuing COVID-19 concerns.
"Those that are making decisions to cancel everything due to fear really need to stop and think outside the box. Let's not be sheep but ones that open the gates for others to follow," the Bigfork Summer Rodeo posted on its page June 2. "Be the ones that preserve our heritage, enhance the quality of life and show the patriotism this country was founded on. Fear can not lock us down any longer. Those that are worried or at risk please stay home but, as for the rest of us, let rodeo live. It's on"
The post has drawn more than 1,800 likes and 170 comments since being posted, all in support of the rodeo.
"Time to cowboy up. Have the rodeo's. [sic] Have the fairs. Live life. If you are worried. Stay home and keep yourself safe. Let the rest of us live our lives the way we see fit," Allen N Carol Betts posted in a comment.
"Great idea. Stand up for our rights and to hell with the bureaucrats," Mike McCarthy wrote in his post.
According to Operations Manager Rob Brisendine, the rodeo will be working hard this year to ensure the safety of fans, competitors and rodeo personnel by adhering to state and local health guidelines while also working under the guidance of a 30-page safety document provided by the Professional Rodeo Cowboys Association.
"We will be working closely with the PRCA and local officials to ensure we put on a safe rodeo for everyone. The regulations change daily, so as more things open up guidelines will change," Brisendine said. "We knew we could put on a safe event and the PRCA is behind us doing it. Keeping rodeo alive is important to Montanans. It's important to the cowboys and their way of life. It's also the livelihood of the stock contractors as well. This is a family-friendly event where people can come out and celebrate our country as well as each other. We didn't want to see that die."
While health guidelines could change over the next few weeks, the PRCA document recommends a number of safety precautions, including the testing of all contestants and rodeo personnel, along with a long list of recommended guidelines for spectators. The document recommends that groups of 10 or more be restricted and that social distancing be observed whenever possible. If unable to maintain recommended social distance, the document recommends that a face mask covering mouth and nose should be required.
Other recommendations include providing at least six-foot distancing for check-ins areas and for locations where lines form in highly congested areas, regular and frequent disinfectant of items that are touched often — such as railings and doors — and providing hand washing or sanitizing stations throughout the venue.
Brisendine said the rodeo will be anticipating a dip in attendance this year with all of the restrictions, but said that should be helpful to help maintain social distancing.
"We are anticipating some drop in attendance this year because we usually have a lot of tourists show up to our rodeo. We might see a little less people this year, but that will give everyone the chance to spread out. It's a large outdoor venue, which helps with spacing as well," he said.
Now in its third year of operation, the Bigfork Summer Pro Rodeo has drawn an average of just over 3,000 spectators per night over its first two seasons, according to Brisendine. While COVID-19 concerns may cut into those numbers this year, he says the rodeo is working hard to expand and upgrade its operation. The rodeo recently purchased grandstands from the now closed Montana Raceway Park in Kalispell capable of seating an additional 2,400 spectators and had also added additional pads for food vendors as well as a permanent power source.
With many rodeos shutting down around the region and the country, the Bigfork Summer Pro Rodeo is also anticipating a record number of contestants this year with more than 300 already signed up to compete.
"There really isn't much going on in Northwest Montana as far as professional rodeo. There is the PRCA event at the fair and ours. There are some smaller, local rodeos going on, but those two are really it as far as the professional rodeos go," Brisendine said. "We are proud to be standing strong and to be able to put in the necessary requirements to keep our event going."
With a strong support base in the Bigfork community and beyond, the rodeo is looking forward to another successful event this year.
"We are super excited about being back once again. Every year we have gained more support and more people in the community have been involved. It's great to see this kind of support. Everyone is starving to get outside and have something to celebrate. This will be a great opportunity for everyone to get out and do that," Brisendine said. "Some of the best cowboys in the world will be in Bigfork over the Fourth of July weekend and it promises to once again be a great rodeo."
For more information on the Bigfork Summer Pro Rodeo, visit their website at www.bigforkrodeo.com or find them on Facebook. ■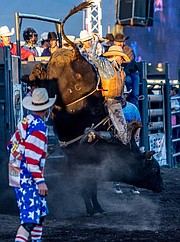 ---