Homicide suspect shot and killed at Woods Bay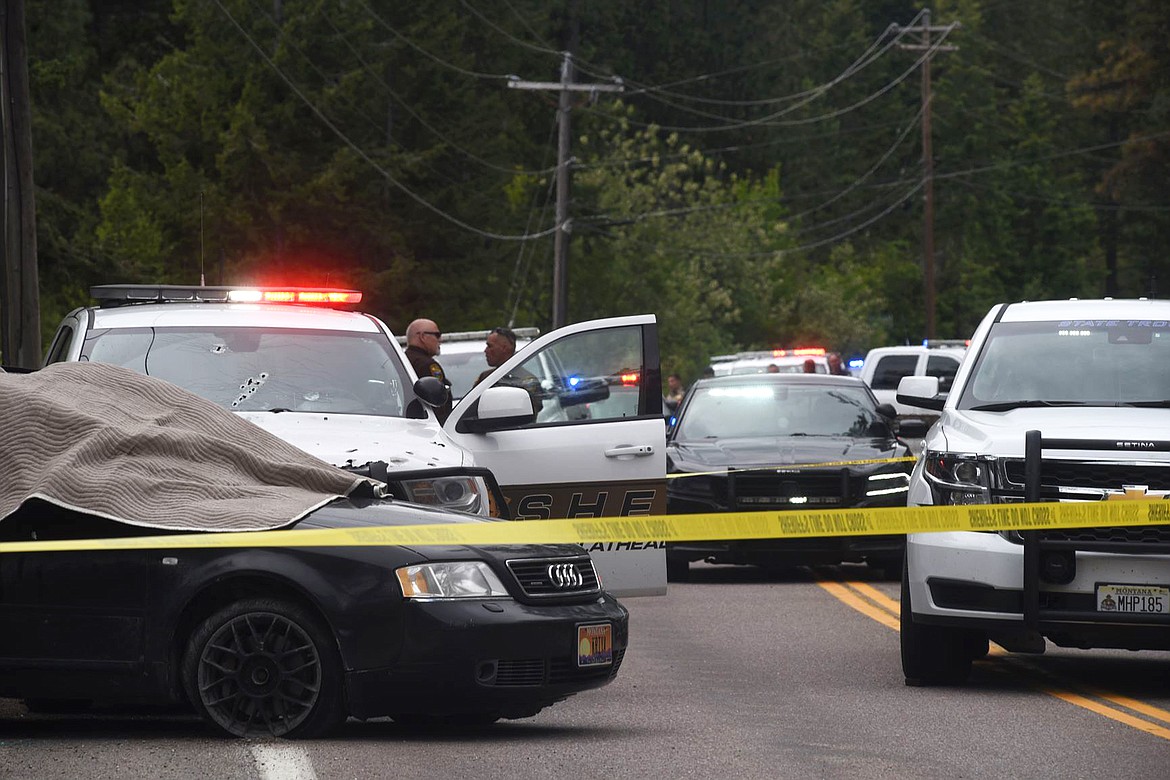 Bullet holes cover the hood and windows of a vehicle used by a Flathead County Sheriff's deputy in high-speed pursuit that ended with a shootout in Woods Bay.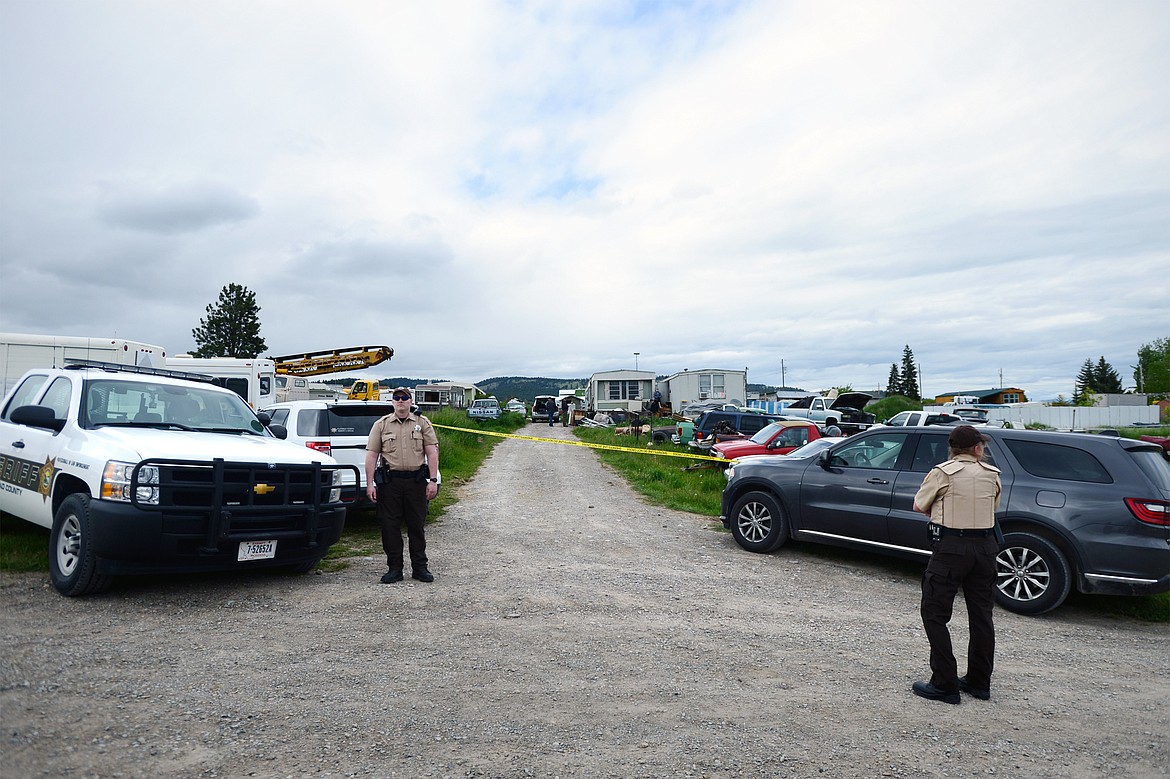 Deputies with the Flathead County Sheriff's Office stand at the scene of an alleged homicide along Cobbler Village Terrace west of Kalispell on Tuesday, June 9. (Casey Kreider/Daily Inter Lake)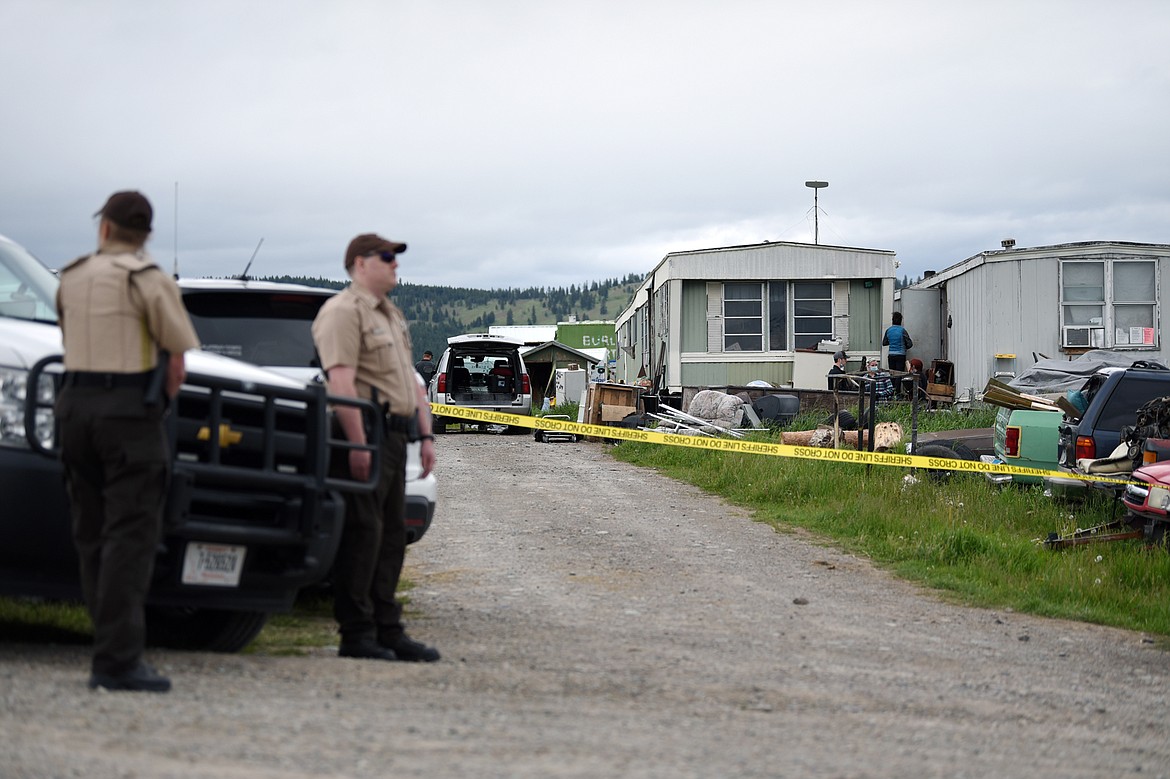 Deputies with the Flathead County Sheriff's Office stand at the scene of an alleged homicide along Cobbler Village Terrace west of Kalispell on Tuesday, June 9. (Casey Kreider/Daily Inter Lake)
Previous
Next
by
Scott Shindledecker
|
June 17, 2020 1:00 AM
A man who fired shots at local law enforcement officers in the Woods Bay area was killed the afternoon of Tuesday, June 9, following a high-speed chase in connection with the homicide of a 62-year-old woman at a residence west of Kalispell, according to Flathead County Sheriff Brian Heino.
According to information from the Flathead County Sheriff's Office, deputies responded to a call at about 11:39 a.m. June 9 for a report of an assault victim with a gunshot wound at 135 Cobbler Village, west of Kalispell.
When deputies and medics arrived they found 62-year-old Maxine L. Heil dead of a gunshot wound.
Deputies then received information about the homicide suspect, Richard L. Mason, 59, and the vehicle he was driving. At about 2:12 p.m., Sheriff's Deputy Matthew Vander Ark saw the vehicle at the intersection of Montana 82 and Hanging Rock Drive and attempted to stop it.
The vehicle failed to stop and led deputies and Montana Highway Patrol troopers on a chase before it ended on Montana 35 south of Woods Bay in Lake County, when Lake County Sheriff's deputies used spike strips to end the chase. Montana 35 was closed for an extended period of time because of the incident and traffic was rerouted to Montana 209 in Bigfork.
According to the Flathead County authorities, Mason fired at Vander Ark, who returned fire along with Montana Highway Patrol Trooper Jerry Ren. Mason died at the scene.
Vander Ark, who was placed on paid administrative leave, has been a deputy for more than seven years. Trooper Ren has been with MHP since 2000.
"We were inches from reporting an officer had been killed," Heino said. "Our vehicles had bullet holes in them, but thankfully none of our guys were hurt."
Heino said Mason was a tenant of Heil's, but a motive for the shooting is still not known.
The Montana Department of Justice Division of Criminal Endangerment is handling the officer-involved shooting investigation.
Heino said the Lincoln County Coroner's Office is handling the death investigation of Mason. The Lake County Attorney's Office will perform a coroner's inquest and Flathead County will conduct an in-house investigation after the other inquiries are complete.
Tuesday's deadly shootout was the third time in less than three months Flathead County deputies have been fired upon by suspects.
On March 24, Awndray Lynn Francisco, 44, of Kalispell, was charged with several felonies after allegedly leading authorities on a miles-long, high-speed chase after they allege she stole a work truck from a hotel parking lot near Glacier Park International Airport.
Sheriff's deputies and officers from Kalispell Police and Montana Highway Patrol stopped Francisco's truck on Grand Avenue in Bigfork. When officers attempted to speak with her, gunfire erupted.
After it stopped, officers got her out of the truck and medical personnel checked her for injuries. Neither she nor officers were injured in the gun battle.
On May 24, Kila resident Anthony D. Grove was shot and killed by Flathead County law enforcement officers after Grove reportedly shot at officers during a standoff. That incident is under investigation by the Missoula County Sheriff's Office, and three law enforcement officers involved in the shooting were placed on administrative leave.
"Our deputies go out every day and put their life on the line for our community," Heino's statement continued. "We are honored to do it and we will continue to do so every day. We will not falter. We will not fail our community. We will stay the course." ■
Reporter Scott Shindledecker may be reached at 758-4441 or sshindledecker@dailyinterlake.com.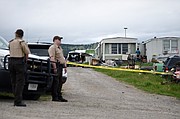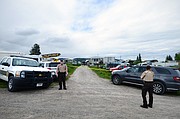 ---