Casino robber gets five years in women's prison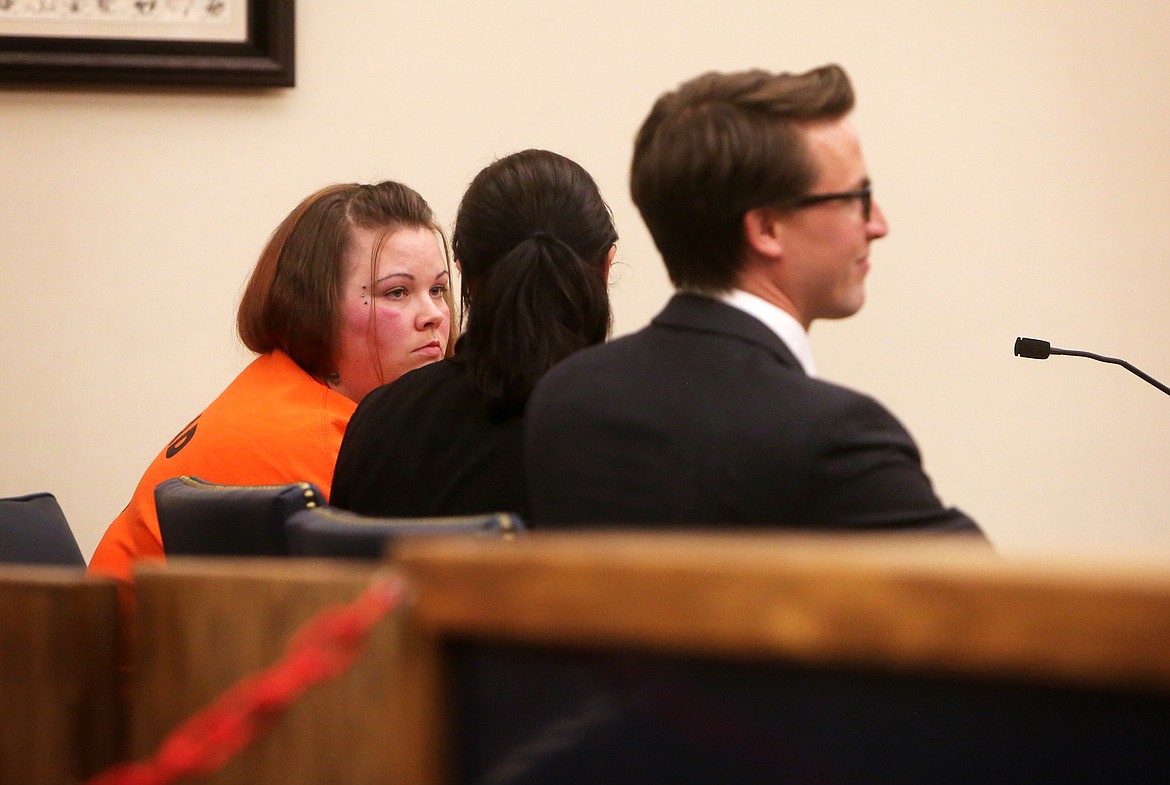 $ID/NormalParagraphStyle:MACKENZIE REISS PHOTOS | Bigfork Eagle $ID/NormalParagraphStyle:Samantha Lee Starks, 28, confers with her public defenders after her sentence is pronounced in Flathead County District Court on June 11.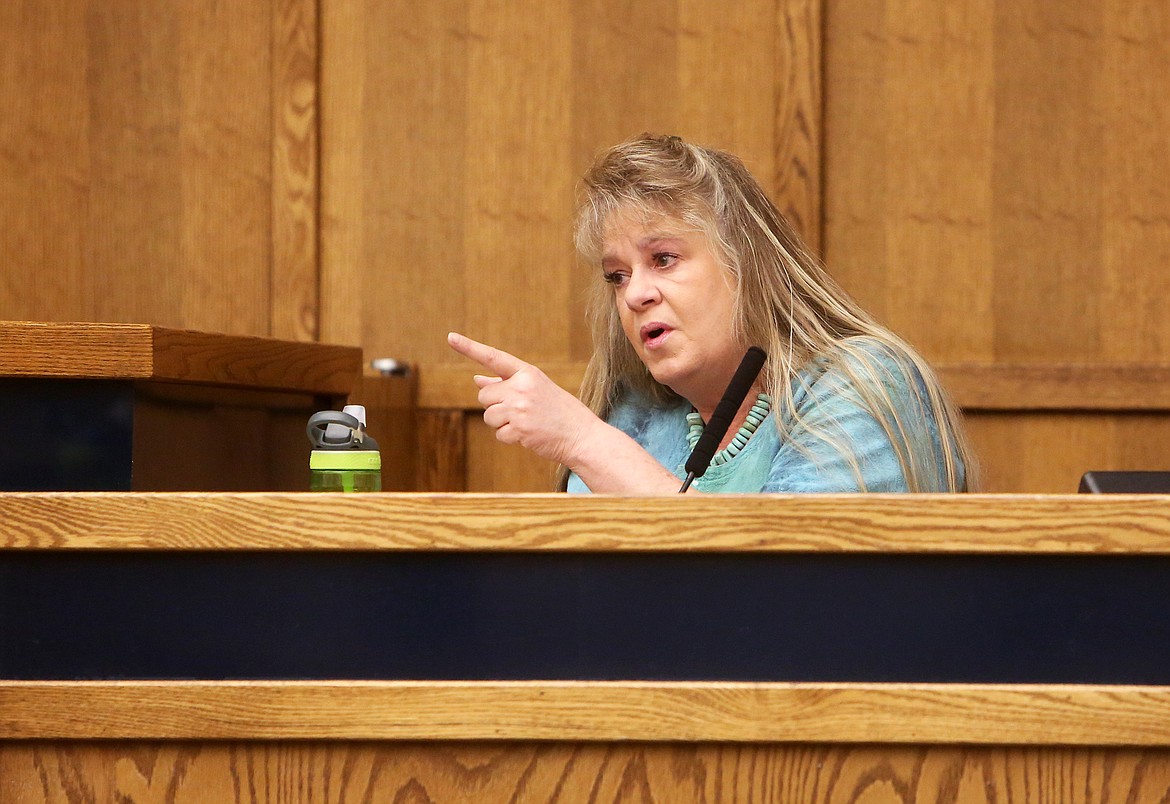 $ID/NormalParagraphStyle:Victim Peggy Hedden testifies at the sentencing hearing for Samantha Lee Starks. Hedden said she wanted Starks to do time for her crime of robbery, but also hoped that Starks would "come out better" after serving her sentence.
Previous
Next
by
Mackenzie Reiss
|
June 17, 2020 1:00 AM
Seven months ago, Peggy Hedden looked into Samantha Lee Starks' eyes while Starks pointed a gun at her inside the Jackpot Casino.
Last Thursday, Hedden faced her assailant again — this time from the witness stand.
"You terrorized me with that loaded gun you chose to point at me when I told you 'no.' I live with that every day…" Hedden told the court. "There's a price to pay for your bad choices."
Starks was charged with felony robbery in connection with the Nov. 12, 2019, robbery of the Jackpot Casino in Bigfork. That morning, Starks, 28, made off with the keys to the casino's gambling machines and evaded law enforcement for nearly a month.
After she was apprehended Dec. 10, 2019, Starks confessed to the crime, which carries a maximum punishment of 40 years behind bars, plus an additional 10 years since a weapon was brandished, along with a $50,000 fine. She pleaded guilty to the offense by way of no contest April 29.
At her June 11 appearance in Flathead County District Court, Starks was sentenced to five years at the Montana Women's Prison in Billings and ordered to pay $5,097.76 in restitution to the casino for security improvements they installed following the robbery. Starks voluntarily agreed to the restitution, which wasn't included in the original plea agreement.
"I'd like to see you get out and be able to get back and have a life while you're still fairly young and also have a relationship with your daughter," District Court Judge Robert Allison told Starks. "I do however feel that for this kind of offense there needs to be both a punitive and a rehabilitative element to it."
Before Starks' sentence was pronounced, Hedden delivered an emotional testimony, describing the harm Starks caused, while also expressing her hopes that Starks would find a better future on the right side of the law.
"This road you find yourself on will not be easy. The whole town is watching. Show them you haven't let this define you. Find a trade. Be the baddest electrician, carpenter — own your own cabinet shop. There's big money in the trades, Sam. Build a life you can be proud of and your little girl can look up to," Hedden said. "Once you get right with life it's amazing what comes your way. I'm rooting for you Sammy. Come out better. Do better. Remind yourself everyday there is no honor amongst thieves and your little girl deserves a better life."
She also explained that as a result of the November 2019 robbery, Hedden was forced to spend nearly $6,500 in security improvements for the safety of herself, her crew and customers.
"She hurt my business. I'm a pretty clean cut place so a lot of older people come there and because of that [robbery], it scared them," Hedden said. "It also rocked my world, I can't even tell you, and I was at risk of losing my crew, so you bet we had to add some extra security. Because you've gotta remember — we're in Bigfork — we're 20 minutes away from help."
Hedden noted that while she suffered an undetermined loss in revenue, that didn't mean she wanted Starks locked up forever.
"I don't want to throw away the key — she's got a little girl she's gotta raise — but she's gotta pay the price," Hedden added.
Starks' attorney Gregory Rapkoch argued for a three-year commitment to the Department of Corrections, noting that Starks was also planning to participate in an 18-month culinary arts program while incarcerated. He said the program would take place at Passages, a women's correctional facility in Billings.
Rapkoch also explained that Starks had dealt with a history of abuse throughout her life and acknowledged that a period of separation could be beneficial to her. However, he wanted Starks to begin the 18 month culinary program as soon as possible.
"Giving [her] the skills that she needs to turn around and have her own independence and her own self worth is an important point in looking at what rehabilitation can do in this context," he said.
Starks also made a brief statement during the hearing, apologizing for her actions.
"I would just like to say that I am very sorry to my victim," Starks said. "That I did not mean to scare her and that I am just sorry for all of this … for the trouble I've caused."
County attorney Travis Ahner said Starks had a number of things working in her favor — the fact that she was relatively young and that she didn't have a criminal history. However, Ahner said he considered these factors when making his recommendation for a five-year commitment.
"What we have here isn't what we usually see in court on Thursdays. It's not a vehicle theft, it's not a bad check-type case … this is a violent offense. This is a robbery," Ahner said. "Miss Starks needs to know, and the community needs to know, that if you rob somebody at gunpoint, you've earned a trip to the prison." ■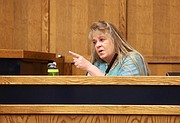 ---