Plans for alternate parade draw community concern, limited support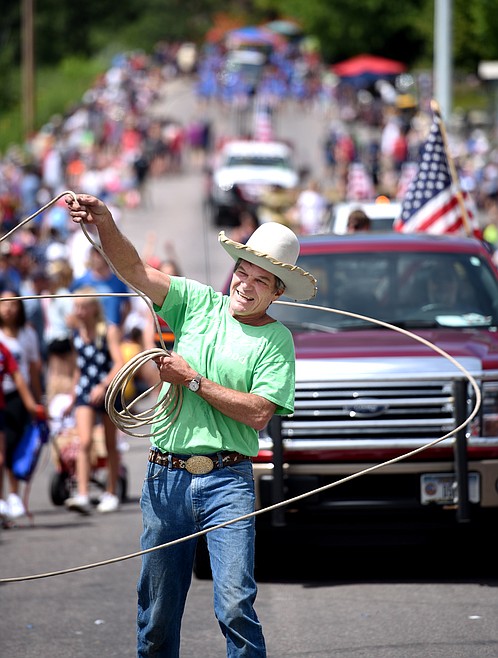 Daily Inter Lake file photo by Brenda Ahearn Lasso tricks during the Bigfork Fourth of July Parade on Tuesday afternoon, July 4, 2018.
by
Mackenzie Reiss
|
June 10, 2020 1:00 AM
After the Bigfork Fourth of July Parade was canceled by the Bigfork Chamber of Commerce over concerns about maintaining state COVID-19 safety directives, one local man announced that he is taking over the reigns instead. Twenty year-old Zack Wenzel made a Facebook event shortly following the chamber's announcement, titled the "Bigfork 4th of July Freedom March."
"Same time, same place, same idea, let's not let this tradition of Bigfork disappear like so many other events this year," the event description read. To date, 270 people have marked that they are going while another 852 expressed their interest in attending the event.
But many local business owners along with the Bigfork chamber are concerned about the proposed alternative parade moving forward without the substantial planning, funding and leadership the chamber has provided in previous years. Multiple attempts by phone and social media were made to reach Wenzel, but he was unavailable for comment as of press time. It is unclear what, if any, planning efforts are in progress for the event.
Each year, the Bigfork Area Chamber of Commerce spends approximately $5,000 on event security, the Flathead County Sheriff's Posse, porta potties, garbage dumpsters, donations to cleanup crews and event insurance. On a typical Fourth of July, the chamber has Electric Avenue closed beginning at 6 a.m. and arranges shuttles to transport spectators into downtown from pre-arranged offsite parking areas.
"The concerns really are the safety of spectators," King said. "Without the road closure, without parking and shuttles and with downtown being full of cars, there's a safety concern for spectators and a safety concern for property."
She said that even with the resources the chamber employs, the parade sees an injury every year.
"It can be a black eye from candy being thrown to a toe getting run over to someone falling off a float," she said. "That is with the sheriff's posse, that is with members of the sheriff department … and about 50 volunteers trying to keep people out of the parade route."
King said multiple organizations need to sign off on large events like the Fourth of July parade. The chamber is required to obtain approval from the Bigfork School District, Bigfork Fire Department, Flathead County Road and Bridge Department, which handles road closures; the Flathead County Sheriff's Office and the Flathead County Commissioners, she said. Event organizers are also encouraged, but not required, to submit their events for consideration to the Flathead City-County Health Department. Public health officer Hillary Hanson said her office has received many submitted plans from individuals who want to make sure that they are following the governor's directives which state that "groups larger than 50 people should be cancelled unless physical distancing can be maintained."
If a business or event is suspected of violating these terms, Hanson said, individuals can file a COVID-19 directive complaint with the health department. This launches an investigation which begins with information gathering from both the complainant and the suspected violating party. "What we've found in general is in a lot of scenarios it's just people who don't understand the directive and just needed the education," Hanson said. "If it doesn't end at the education level then we issue a violation letter and it's turned over to the county attorney's office. It's civil, it's not criminal."
It is then up to the county attorney to determine what if any charges are necessary. But Hanson said she's seen a lot of creative alternatives for traditional events across the state. In Laurel, for example, the community is hosting a reverse Fourth of July parade where spectators drive by the parade, instead of gathering in a crowd to observe it. Laurel is also hosting a "secret" fireworks display where fireworks will be launched from multiple sites around the town so people can view them from their backyards anywhere in the community.
"If someone wanted to create this event in another location where current state directives could be met, the chamber would happily support it," King noted. "People absolutely do have a right to assemble, they have the right to celebrate the Fourth … but four years ago, because of fire dangers, people weren't allowed to have fireworks. It didn't mean that their right to celebrate America's independence was taken away. It just had to be done in a different way. And that's how we feel about the parade."
Paul Mutascio, president of the Community Foundation for a Better Bigfork said he considers the parade to be a "blessing" for local businesses in a normal year, but said it was understandable why this year's event had to be canceled.
"This year, if this unsanctioned event goes forward, nobody knows what to expect. I just don't know what's going to happen," Mutascio said. "What happens if somebody gets hit or injured?" He was also concerned about emergency access in the event that a road closure isn't approved.
"It takes a lot of logistical work starting with street closure and parking and you need a lot of volunteers," he said. "Also there's a matter of sanitation. If something's going to happen of this magnitude … it needs to be well constructed and coordinated."
Gretchen Gates, of Eva Gates Homemade Preserves, has been involved in her family business for 30 years and formerly served on the chamber of commerce board of directors.
"There's no planning, there's no porta potties, there's no security, there's no nothing," Gates said. "It's just some young kid that decided they're going to have a parade. It's going to be a mess down there."
But not everyone is opposed to the efforts to host an alternative Fourth of July parade without the chamber's backing.
Jolene Bowers, a sales representative at S.M. Bradford Co., said she was in favor of having the Fourth of July parade.
"It's the Fourth of July and it's a tradition and it's celebrating our rights and freedom — and we no longer have a lot of them," Bowers said. "People are rioting in groups of thousands and nobody seems to care about that, but we can't have parades or graduation."
While Wenzel was unavailable for comment despite multiple attempts to reach him, he wrote in a June 2 Facebook post that he was opposed to the government telling him what to do, especially when it meant canceling a holiday dedicated to celebrating American independence.
"What's so free about having the Government [sic] tell you what to do and when you can do it? It's time we put our foot down and start helping all of these small businesses in Bigfork that have been struggling so much in the past few months," he wrote. "Losing the tourist attractions this summer will result in losing our local businesses this winter. Enough is enough." ■
---