Bigfork couple gets grizzly visitor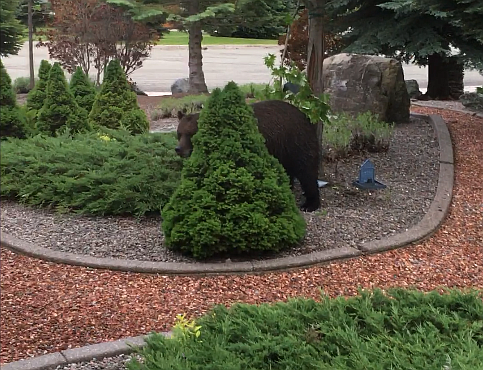 A grizzly feasts on a bird feeder in Dave and Jo Strawser's front yard on Sunday. (Courtesy Jo Strawser)
Dave Strawser got quite the surprise last Sunday.
As he was sipping his morning coffee around 6 a.m., Strawser rolled up his electric blinds and spied what his wife described as "a strange, black lump."
Then the dark mass moved.
It was a bear, standing on its hind legs, trying to reach a bird feeder hanging from a tree in the Strawser's front yard in Harbor Village.
He ran to wake his wife, Jo.
"Hurry, hurry hurry!" she remembers him saying.

They watched the bear and then the animal turned, revealing a distinctive hump — a classic sign of a grizzly bear.
"This is Harbor Village," Jo said. "There's homes everywhere. We've never seen a bear here."
The bear hunched over and chowed down on the feeder's contents and then took a left, heading toward their front porch.

"At that point, I tapped on the window and he looked up and took off across the other people's yard," Jo recalled.

The Strawser's sighting isn't the only bear activity the Bigfork area has seen recently. Three young grizzlies were trapped along Swan Lake May 7 after being spotted feeding on garbage, hummingbird feeders and in lawns from Woods Bay to Ferndale.
FWP Grizzly Bear Management Specialist Tim Manley said he recommends residents take down bird feeders in early April, secure livestock feed and use electric fencing around chicken coops. Another important tactic in reducing human-bear interactions is proper garbage storage.
"Bears learn to associate houses and places of residence with food. It causes bears to come in around houses, up on porches looking for easy food," Manley told the Eagle in May. "We don't want to have people have to shoot or kill bears."
---